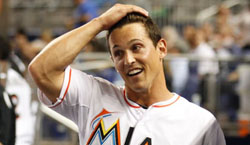 Adam Greenberg is an American Jewish sports figure who was drafted by the MLB team the Chicago Cubs. Greenberg was born on February 1 1981 and was raised in a Jewish family in New Haven, Connecticut. He was extremely active in sports teams all throughout school and was the first player in Connecticut history to be named to four all-state baseball teams. Greenberg was also a very talented soccer player, making the all-state soccer team three times and being named to the All-American team in 1998.
He attended college at the University of North Carolina, where he continued to excel in baseball. After his college career he entered the MLB draft in 2002 and was selected by the Chicago Cubs in the ninth round. From 2002-2005, he played for minor league teams, including the Lansing Lugnuts, the Daytona Cubs, the West Tennessee Diamond Jacks, and the Iowa Cubs.
On July 7, 2005, Greenberg was called up to the majors for a game between the Chicago Cubs and the Florida Marlins. On the first pitch of his first at-bat, Greenberg was struck in the back of the head by a 92–mile-per-hour fastball fired by Marlins pitcher Valerio de los Santos. Los Santos claims that the first thing that went through his head was that he had just killed Greenberg. According to Greenberg, his eyes rolled back in his head, and he felt as if the only thing holding his head together were his hands. The 24-year-old was helped off the field and later experienced splitting headaches and distorted vision. Just three weeks after the beaning, he attempted to play baseball again unsuccessfully.
After seeing multiple doctors who could not accurately diagnose what Greenberg was feeling, he was finally told that he had "positional vertigo", a disorder that occurs after severe head injuries and causes the affected person to experience nausea, dizziness, severe headaches, and distorted vision. He was released from his contract with the Chicago Cubs in June 2006, and immediately signed with the Los Angeles Dodgers. Greenberg began playing for their minor league teams, but was never called up to the majors. He went on to sign with the Kansas City Royals and then the Anaheim Angels, playing on their respective minor league teams and attempting to gain a spot back on an MLB roster.
In 2012 an online campaign called the "One Last At Bat" campaign was launched by a Chicago Cubs fan in hopes of granting Greenberg one more at-bat in Chicago. This petition gained a lot of support after going viral and being featured on Yahoo Sports. The campaign caught the ears of the Florida Marlins organization, who offered Greenberg a one-day contract for their October 2, 2012 home game aginst the New York Mets. as he came up to bat, but struck out against future Cy Young Award winner R.A. Dickey. After the game he announced that he was hoping to be invited to the Marlins spring training and wanted to continue to pursue his baseball career, but it was not to be. Greenberg announced his retirement from baseball in February 2014. Later that year he was inducted into the National Jewish Sports Hall of Fame.
---
Sources: Tablet Magazine, On Base Talk, ESPN