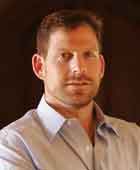 Adam Bronfman makes a great cup of tea. The brewing…the seeping…the colorful giant mugs…it's all part of his way of making guests feel instantly at home — effortlessly transforming would-be formal meetings into relaxed and friendly conversations.
My first clue about what Bronfman would be like came when local driver David picked me up from the airport in Phoenix, Arizona. "You're going to love the Bronfmans," were the very first words he spoke as he showed me to the car. "They've restored my faith in humanity."
David was right. Bronfman, managing director of the New York-based The Samuel Bronfman Foundation, makes it seem easy to be an approachable yet respected and generous leader in the worldwide Jewish community. Like his father, Edgar Bronfman Sr., and uncle, Charles Bronfman, he is fast becoming known for his philanthropic vision promoting Jewish learning, outreach and pluralism. Small talk in his home, located between Phoenix's Camelback and Mummy mountains in scenic Paradise Valley, immediately centers on family. "Family comes first," says 41-year-old Bronfman of his life with wife Cindy and their four children.
Bronfman, one of the heirs to the Seagram liquor empire, grew up as the youngest of five children. His childhood, though privileged, was not always easy. His parents divorced when he was 9. At 14 he was sent to boarding school. Now, as a parent himself, he seems determined to provide a loving and stable life for his children.
Top hits from eldest son Josh's radio travel from a back room, filling the spacious, light-bathed family room just off the kitchen with background noise. The family's 5-year-old pet dog, Shiva, whom they saved from the pound, walks around the room as if she owns the place. When 17-year-old Josh emerges moments later to say good-bye before going out, he exchanges a quick hug and an "I love you" with his father before heading out the door.
Bronfman is wearing blue jeans, a blue shirt, brown loafers and a Jewish star around his neck. He's got his laptop open, looking up some information about his foundation's work, which raises money for a myriad of Jewish and other causes. We get sidetracked and start talking about heli-skiing, a sport Bronfman got into 12 years ago and avidly enjoys. In fact, he has skied more than 100 first descents all over the world. He pulls up a digital photo of him heli-skiing in the remote snowcapped mountains of New Zealand, where he and a ski group were dropped by helicopter. "I'm from New York, I'm a city boy…but the absolute silence of being up there on those unmarked trails, it's almost spiritual," says Bronfman, in his animated, easygoing voice.
Getting away from it all is one reason Bronfman chooses not to live in New York, although his organization is based there. Instead he works from home, dividing his time between his chief residence in cactus- and palm-tree-filled Arizona and his second home in increasingly popular Park City, Utah.
Taking a moment to glance outside at the almost-too-blue, picture-perfect day, he explains that he loves small towns, where things are more of an open book and an individual can have a greater impact.
Bronfman may look the part of a small-town guy, with his brown hair and beard, rugged, fit looks and casual dress, but he is also something of a Renaissance man, the kind who is equally at home on the slopes of a deserted mountain in New Zealand as he is presiding over a crowded boardroom in New York.
Others have credited him as a "visionary" for his groundbreaking work at the foundation. If you ask Bronfman about the secret behind his success at reaching out to Jews, he'll attribute it to what he calls random chance. He believes we don't choose our life paths, things just arbitrarily happen. "It's the way the world operates," he says.
I beg to differ. It almost seems that Bronfman was predestined for the role he says he never envisioned but has now found himself in: serving as a driving force behind efforts to connect people to Judaism and draw Jews to — or back to — their Jewish roots.
His youth alone assures that Bronfman does not fit the bill of the stereotypical aging Jewish philanthropist. Nor can he be made to neatly fit into any one box. Yes, he is a devoted husband and father. And yes, he gives generously, in both time and money, to the Jewish and general communities. But then there are the unexpected and little known talents he possesses. In addition to enjoying heli-skiing, he's a self-described exercise fanatic, serious golfer and past martial arts instructor. His real estate dealings may be well known, but he has also spent time working as a producer and choreographer of educational videos.
Moreover there's an unexpectedly humble and introspective side to Bronfman—the side that studies Torah on a twice-weekly basis, blesses his children on Shabbat, gives thanks for what he has, and continually seeks the answer to the question "Who is a Jew?"
It's a question that hits home for Bronfman. Although he and Cindy have always raised their children as Jews, she is not Jewish and never converted. The couple were teenage sweethearts. She lived in the area and worked in the snack shop of the private boarding school he attended. And, in fairy tale romance fashion, he saw her across the room and "knew she was the one." They've been together ever since.
"According to much of the Jewish world today, my children, technically, are not considered Jewish, yet they think of themselves as Jewish and do so much [Jewishly]," says Bronfman, pointing out the irony that "you could have two Jewish parents, and their kids not know anything. Yet we are an intermarried family that lives a very Jewish life and knows how to live and celebrate as Jews."
One of Bronfman's goals is to create forums for safe discussion on the issue of intermarriage and what makes a person Jewish. "We need a place where people can talk and not feel judged. The future of the Jewish world depends on it, or else people will get turned off and go elsewhere [to find religion]."
Judaism, he warns, needs to be rejuvenated with new entry points or it will cease to exist. Despite his avocation of the need for more open discussion, however, Bronfman has no interest in "rewriting the Torah."
He didn't grow up as a particularly observant Jew, but says he loves Judaism because it is such a life-affirming religion. "It's not about heaven and hell, it's about what you do in the here and now."
He elaborates that Judaism allows you to choose to have a relationship with God, to answer to a higher power. "It's a religion based on relationships, on reality…Abraham and his descendents are faced with extremely painful and often impossible situations. They sometimes make poor decisions…they screw up. That's real life."
It's his passion for Judaism and firm belief in tikkun olam that fuels Bronfman's drive to bring more people his own age out of the woodwork and into Jewish philanthropic and communal life. And, if anyone has a way of persuading other young successful Jewish professionals to apply their business know-how to the Jewish community, it's Bronfman. He makes being a Jewish leader hip and contemporary—suddenly it's not just something our parents do.
"I decided to help complete what my father started," says Bronfman, explaining that after his father sold Seagram, his focus shifted from corporate to philanthropic. "I enjoy working with him; we have very similar ideas."
He calls his work at the foundation a union between him, his father, and the organization's executive director. He takes a sip of tea, settles back in his chair, and prepares to outline some of his work:
On The Samuel Bronfman Foundation:
Foundation Executive Director Dana Raucher credits Bronfman with providing the philanthropic vision to govern the foundation's giving. Bronfman likewise largely credits Raucher with the foundation's operating success. A former participant of the Bronfman Youth Fellowships in Israel, she says that experience introduced her to Jewish philanthropy and its power to transform lives. The Bronfman Youth Fellowships in Israel is one of the flagship projects of The Samuel Bronfman Foundation and for the past 18 years, it has been educating and inspiring exceptional young Jews from diverse backgrounds to become active participants in Jewish culture.
"Adam brings new issues to our radar screens. He encourages us to think of Jewish life outside of New York…to reach out to those disengaged by existing Jewish programming," says Raucher, a former corporate lawyer in Israel before coming to work for the Bronfmans three years ago. "The most rewarding aspect of this job," she says, "is that the foundation rewards innovation and thinking that is outside the box."
Along with a host of other projects, Bronfman is highly engaged in working to further the reach of MyJewishLearning.com, which was inspired by his father, who Bronfman credits as "truly understanding that whether you are religious or not, being a Jew requires a knowledge base." MyJewishLearning.com is, according to Bronfman, "the only significant website that is pluralistic. If you want to learn something about Jewish religion, practice or Jewish history, MJL is the place to go." Bronfman is enthusiastic about the prospect of anyone, from any background, being able to access content about the Jewish religion, spirituality, culture or history online.
On Hillel International:
While not necessarily the last opportunity to cultivate a strong Jewish identity, the four years a person spends in college are often the most formative. That's why Bronfman is so passionate about the importance of his work with Hillel.
There are literally hundreds of Hillels — one found in every major university throughout North America and all over the world. Bronfman got his start working as a lay leader with Hillel at the local level when he lived in Santa Barbara several years ago. He played a key role in helping the Hillel at the University of California, Santa Barbara to complete its capital/ building campaign. He still sits on the university's Hillel Support Foundation Board and supports the Edgar M. Bronfman Director's Chair.
But Bronfman has also gone on to serve as a member of Hillel's International Board of Governors and its International Board of Directors. In addition, he serves on Hillel's Strategic Planning Committee and chairs its International Division, leading Hillel's expansion globally.
"Hillel is honored to include global leaders in the world of business and philanthropy," Hillel President Avraham Infeld was quoted as saying upon the installation of Bronfman and other prestigious board members from around the world.
On Temple Har Shalom:
Bronfman is an active congregant at Temple Har Shalom, a decade-old Reform synagogue located near his home in Park City, Utah. Initial volunteer efforts focused on teaching fifth- and sixth-grade religious and Hebrew classes and delivering d'vrei Torah to the synagogue on Shabbat.
Then, in typical Bronfman style, his "vision" took over. He went on to establish the Saidye Rosner Bronfman Rabbinic Chair, which enabled the synagogue to hire a sorely needed rabbi. He also is helping to lead the temple's current campaign to secure the future of the local Jewish community by building a permanent home, which would not only house the synagogue, but a JCC and other Jewish institutions as well. "I plan to build a center for Jewish life…an artistic, cultural, social, religious and academic campus, not just a synagogue."
"Adam is emerging as one of the Jewish world's most compelling leaders," says Rabbi Joshua Aaronson, who was hired three years ago to fulfill the rabbi position at the temple. "Primarily due to his vision, our community has thrived. We have almost doubled in size."
One successful program Bronfman helped implement is the congregation's "ski shul," North America's only ski-in/ski-out Kabbalat Shabbat service. The service takes place in a cabin on a mountain at Deer Valley, one of the world's great ski resorts. Every Friday afternoon, Jews from around the world gather on the mountain for a Kabbalat Shabbat service, Kiddush wine and challah.
On The Taft School:
Bronfman has always believed in giving back to the community. That's why he contributes so generously to The Taft School, the Connecticut boarding school of which he is an alumnus. He has endowed several scholarships there, including the Maureen Donahue scholarship in memory of a classmate.
Concerned with the cultivation of a strong Jewish community at Taft, Bronfman, along with his parents, has also donated a Torah and Ark, and played a pivotal role in linking the school to The Curriculum Initiative. The Curriculum Initiative provides support for Jewish students in non-Jewish, independent schools.
"Adam is much more than a funder, he is a roll-up-the-sleeves thinker and strategist," says Eileen Gress, The Curriculum Initiative's Executive Director.
The Curriculum Initiative recently hosted Jewbilee, the only Jewish student conference held at a prep school. Since its inception a few years ago, Jewbilee has gathered hundreds of Jewish students from across New England for a two-day conference dedicated to exploring Jewish identity and fostering Jewish community at private schools. Bronfman draws much inspiration and insight from working closely with his father. Indeed, Bronfman feels that his father "has given [him] a gift with the work he has done." He adds, "I hope to work with him and help in the work of The Samuel Bronfman Foundation for a long time."
Bronfman recalls his father teaching him as a young boy that "we need to leave this world a little better than we found it." It is certainly clear that he will do that.
---
Sources: Lifestyles