Abraham Ribicoff
(1910 - 1998)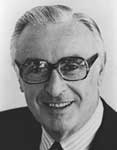 Abraham Alexander Ribicoff was born in New Britain, CT, on April 9, 1910. He attended the public schools and New York University before graduating from the University of Chicago Law School in 1933. Ribicoff was admitted to the bar the same year. He later served in the Connecticut legislature (1938-1942) and as a judge of Hartford Police Court (1941-1943 and 1945-1947). He was also the chairman fo the assembly of municipal court judges for the State of Connecticut in 1941 and 1942; a member of the Charter Revision Commission of the city of Hartford in 1945 and 1946, and a hearing examiner for the Connecticut Fair Employment Practices Act.
Ribicoff was elected as a Democrat to the Eighty-first and Eighty-second Congresses (January 3, 1949-January 3, 1953). He did not run for renomination in 1952, but did make an unsuscessful attempt to win the vacant Senate seat. He became Governor of Connecticut (1955-1961) and later served as Secretary of the Department of Health, Education, and Welfare in the Cabinet of President John Kennedy.
Ribicoff was elected to the United States Senate in 1962; reelected in 1968 and again in 1974, and served from January 3, 1963, to January 3, 1981. He retired from the Senated and practiced law in New York City. He died there on February 22, 1998.
---
Sources: Biographical Directory of the United States Congress. Photo U.S. Senate Historical Office.