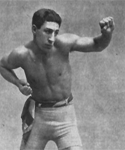 Abraham Washington Attell was known as "The Little Hebrew" in the boxing world. He became known for his record-setting period as world Featherweight champion, as well as for his involvement in the Black Sox Scandal. Attell was Jewish, but he grew up in an Irish neighborhood. Because of that, he often found himself involved in fights. According to him, he would get involved in as many as 10 bouts each day as a kid. He got a chance to witness the fight between Solly Smith and George Dixon for the world's Featherweight championship. With that, Attell and two of his brothers were convinced that maybe they had a future in boxing. Attell's first fight was on August 19, 1900 when he knocked out Kid Lennett in two rounds.
Attell won 10 fights in a row by knockout and later moved to Denver, Colorado, where he met Dixon for the world's Featherweight championship. The year was 1903 and Attell was 18. He beat Dixon by a decision in 15 rounds, and became world Featherweight champion. He lost the crown in his second defense, being knocked out in five rounds by Tommy Sullivan. However, he regained the crown from Sullivan by beating him in their rematch by knockout. Attell then went on his streak of 18 defenses in a row. Attell beat, among others, Battling Nelson and Johnny Kilbane during that streak.
During his time as a world champion, Attell was allegedly involved with mafia boss Arnold Rothstein. They supposedly became very good friends during this period. Attell went on to lose his world Featherweight title to Kilbane in 1912, losing by a 20 round decision. He finally retired from boxing in 1917.
Attell was involved in one of sport's largest scandals of all time, when he was accused in 1920 of being the messenger between Rothstein and players of the Chicago White Sox baseball organization during the planning stages of the alleged fix of the 1919 World Series, also known as the Black Sox scandal.
Attell was inducted into the original Boxing Hall of Fame, and the International Jewish Sports Hall of Fame in 1983.
---
Sources: Jewish Sports Net , Wikipedia