Abdul Fattah Hamayel
(1950 - )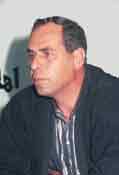 Born in Kufr Malik in 1950, Mr. Hamayel is married with five children.
For 17 years, Mr. Hamayel was imprisoned by Israel for being a member of the Fatah party. (The Fatah party, like all Palestinian political parties, was considered "illegal" by Israel. Political activists were frequently imprisoned.) He was given seven life sentences for attempting to organize Palestinians and was released in 1985 as a part of a prisoner exchange. He was re-imprisoned by Israel in 1990 and was exiled to Jordan in 1992.
Mr. Hamayel returned to the territories in 1994 where he served as the Secretary-General of the Fatah party in the Ramallah district. In 1996, he was elected to the Palestinian Legislative Council and served as a member of the Interior Committee and the Budget and Financial Affairs Committee. He wa nominated in 2003 as the Minister of State (without portfolio) for the new Palestinian Authority Cabinet. He is a member of Fatah.
Perhaps because he was imprisoned for over nineteen years, Mr. Hamayel expects integrity and methodical government functioning from the Palestinian Authority to help him believe the years wasted were for a just and successful cause.
He has been quoted as criticizing the Palestinian Authority for lacking a clear political vision, and is noted as a "reformist member" of the Palestinian Legislative Council along with Ziad Abu Amr, in the Middle Eastern presses.
Despite Mr. Hamayel's experience as an Israeli prisoner, he is considered a reform minded politician and a likely ally of Prime Minister Abu Mazen.
Mr. Hamayel has published Lullabies Behind Bars, a collection of Arabic poetry written while in prison. He is an avid gardener and enjoys farming.
---
Sources: Palestine Media Center; MiddleEastReference.org.uk; PalestineReport, Oct. 1997; Pakistan Today, (November 8, 2002); multaqa.org