Abba Hillel Silver
(1893 - 1963)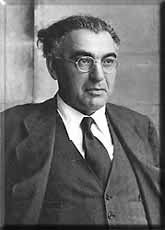 Abba Hillel Silver was best known for his outstanding leadership of the Zionist movement in America. Born in Lithuania in 1893, Silver was raised in a highly traditional home in which Jewish scholarship was strongly emphasized. In 1902 Silver's family arrived in New York City, where Silver spent the rest of his youth. In New York, he became president of the Herzl Zion Club, a Hebrew-speaking group which debated the Jewish issues of the day.

Silver was ordained as a Reform rabbi in 1915 by the Hebrew Union College in Cincinnati. After his first two years as a rabbi in Wheeling, West Virginia, Silver was appointed rabbi at Congregation Tifereth Israel. This Cleveland congregation was to remain his home for the remainder of his career.

Silver held many different influential positions in organized Jewish life in America. He was founder and co-chair of the United Jewish Appeal, and president of the United Palestine Appeal. He served as the representative of the American Zionist movement at Zionist Congresses. From 1945-1947, Silver was president of the Zionist Organization of America. During that same period, he was also president of the Central Conference of American Rabbis (an American Jewish Reform organization).

Silver's skills as an orator were renowned. Whether he spoke about social issues or on behalf of the Zionist cause, he captivated his audience. His distinct influence was felt in many arenas. Although he himself identified with the Republican party in the United States (an unusual position for an American Jew at that time), he was respected by Democrats as well. Silver was relentless in his pursuit of American governmental support for the creation of a Jewish state. While many American Zionists claimed that Jews should not pressure the American people and its government during wartime, Silver boldly insisted that American public opinion must be mobilized to achieve a state. Under his guidance, the American Zionist Emergency Council was overwhelmingly successful in shaping American public opinion, among both Jews and non-Jews. This strategy of outspokenness marked a new era in Zionist politics, in which Jews began to express their opinions and desires publicly.

Silver was also able to sway world opinion to favor the creation of a Jewish state. It was he, in his capacity as chairman of the American section of the Jewish Agency, who addressed the Assembly of the United Nations for the Zionists. Several months later, in November 1947, the U.N.announced its approval of partition and the establishment of the Jewish state.

In addition to his work in the political arena, Silver was a prolific writer. His sermons, articles, and books covered a range of topics relating to issues of Jewish concern.

After the establishment of the State of Israel, Silver faced opposition from within the Zionist movement. As a result, he was forced to relinquish his leadership position, but remained a powerful and influential spokesperson.
---
Sources: The Jewish Agency for Israel and The World Zionist Organization