2016 U.S. Presidential Campaign: Mike Pence
2016 U.S. Presidential Campaign:
Mike Pence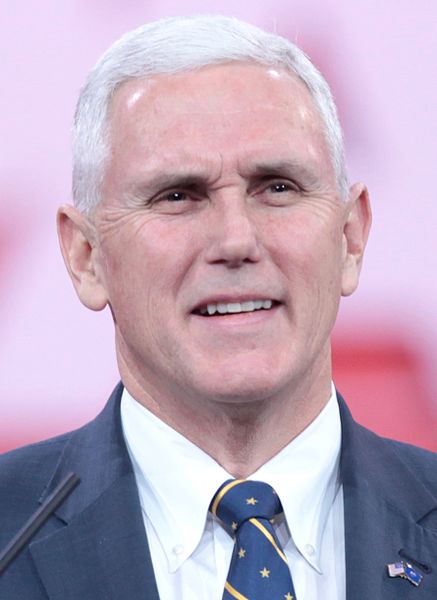 ---
---
Michael Richard Pence was born on June 7, 1959, in Columbus, Indiana. One of six children of Nancy and Edward Pence, a U.S. Army veteran who operated a series of gas stations, Mike Pence was politically influenced by the Irish Catholic leanings of his family. He grew up idolizing former President John F. Kennedy, and volunteered for the Bartholomew County Democratic Party as a student at Columbus North High School.

While church had played an important role in Pence's early family life, he became more deeply religious as a student at Hanover College. Additionally, although he voted for Jimmy Carter in 1980, he became inspired by Ronald Reagan and the Republican Party. After graduating with a B.A. in history in 1981, he moved to Indianapolis in 1983 to attend the Indiana University McKinney School of Law, earning his J.D. in 1986.

Mike Pence went into private practice following his graduation, and tried his hand at politics by becoming a precinct committeeman for the Marion County Republican Party. Seeking to make a bigger splash, he ran for Congress in 1988 and 1990, losing both times to Democrat Phil Sharp. However, Pence learned a valuable lesson in defeat; disgusted by his own line of attack ads, he penned an essay in 1991 titled "Confessions of a Negative Campaigner," and vowed to preach a positive message from then on.

Meanwhile, his public profile continued to grow. Pence served as president of the Indiana Policy Review Foundation from 1991 through 1993, before making the leap to radio talk show punditry with "The Mike Pence Show." Referring to himself as "Rush Limbaugh on decaf," Pence was unapologetic in his support of a conservative agenda, but was commended for his level-headed manner and willingness to listen to opposing views. His radio show was syndicated in 1994, and he branched out to television as a morning show host the following year, before ending both programs in 1999.

Mike Pence revived his political career by running for Congress again in 2000, this time winning a seat. Describing himself as "a Christian, a conservative and a Republican, in that order," he quickly demonstrated that he wasn't afraid to buck party lines. He opposed President George W. Bush's No Child Left Behind policy in 2001, as well as the Medicare prescription drug expansion the following year. While his positions rankled party elders, they bolstered his reputation as a man of strong convictions, and he easily won reelection five times.

Climbing the ranks of Republican leadership, Pence was named head of the Republican Study Committee in 2005. He was unsuccessful in his bid to become minority leader in 2006, losing to Ohio's John Boehner, but two years later he was unanimously elected to the powerful position of Republican conference chairman.

A staunch fiscal conservative, Pence insisted on cuts to the federal budget before supporting funding for Hurricane Katrina relief efforts in 2005, and was among the leading opponents of the federal bailout in 2008. He also drew attention for his social views, notably supporting a plan to shut down the government over a fight to defund Planned Parenthood in 2011.

In 2011, Mike Pence announced his intention to run for governor of Indiana the following year. Despite strong name recognition and a platform focused on tax cuts and job growth, he became embroiled in a heated race with Democrat John Gregg, eventually pulling out a close win with just under 50 percent of the vote.

Pence found himself in the national spotlight and on shaky ground after signing the Religious Freedom Restoration Act in March 2015. Intending to protect business owners who didn't want to participate in same-sex weddings, Pence instead encountered resistance from moderate members of his party and corporations that threatened to pull out of the state, and he was forced to alter the bill to provide exemptions for LGBT communities. Similarly, he came under fire in the spring of 2016 for signing a bill that prohibits abortions when the fetus has a disability.

Shortly after announcing his intention to run for a second term as governor, Pence returned to the national spotlight when he surfaced as the vice presidential candidate for likely 2016 Republican nominee Donald Trump. Although Pence had opposed some of Trumps views, he was believed to be a good running mate for the New York business mogul due to his ties to congressional leaders and strong support among conservatives.

Pence is well known among Jewish U.S. lawmakers and Israeli politicians, and spoke at the American-Israel Public Affairs Committee conference in 2009. As Governor of Indiana in 2014, Pence led a trade delegation of Indiana business and political leaders on a trip to Israel, where they met with Prime Minister Netanyahu, visited the Yad Vashem Holocaust Memorial Museum, and spoke to IDF soldiers. A trade delegation from Israel was hosted by Pence in Indiana in mid-2016. In March 2016, Mike Pence became one of the first Governors in the United States to sign legislation into law requiring state institutions to divest public funds from entities that support the BDS movement against Israel.
---
U.S. - Israel Relationship
"I have long believed Israel is our most cherished ally. Israel's enemies are more emboldened than ever before and with the overwhelming bipartisan passage of this legislation, Indiana made clear that we will not do business with those who seek to inflict financial damage on the people of Israel."
(Trade Delegation Meeting, June 2016)
"I support Israel and like millions of people in Indiana and the overwhelming majority of people in our country, I strongly support the relationship between our country and the state of Israel. Despite the pronouncements from individuals in any particular administration, I truly do believe that in these challenging times for the State of Israel that support among the American people for the State of Israel has never been stronger. When it comes to the United States of America, if the world knows nothing else, let it know this: America stands with the Israel and I believe we always will."
(Voice of Israel radio, December 2014)
"Though I know of no synagogues in my district, let me say emphatically, like the overwhelming majority of my constituents, my Christian faith compels me to cherish the state of Israel. In the year 2000 when I was first selected to Congress, Israel was already a priority to me. I really looked forward to being in a position where I knew I could help fulfill what I believed was not only right for America but the right thing to do."
(AIPAC, 2009)
Iran
"I am opposed to this agreement because it will not make the United States or our most cherished ally, Israel, safer. Instead, it promises Iran a lifting of United States nuclear-related sanctions for an agreement on Iran's nuclear weapons program that will only halt its ambitions temporarily, rather than permanently dismantle its nuclear desires."
(Indiana Star, September 8, 2015)

Israeli-Palestinian Conflict
During a trip to Israel in December 2014, Pence attended a dinner hosted by PA President Mahmoud Abbas. Abbas invited Pence to sit at the head of the table with him, and invited him to speak in private following the meal. Pence politely refused both requests.
(Indiana Star, December 30, 2014)
---
Source: Biography.com Editors, "Mike Pence Biography," Biography.com (July 18, 2016)

Wikimedia, By Gage Skidmore from Peoria, AZ, United States of America (Mike Pence) [CC BY-SA 2.0 (http://creativecommons.org/licenses/by-sa/2.0)], via Wikimedia Commons