Views on Israel of U.S. Presidential Candidates 2020:
Donald Trump
(1946 - )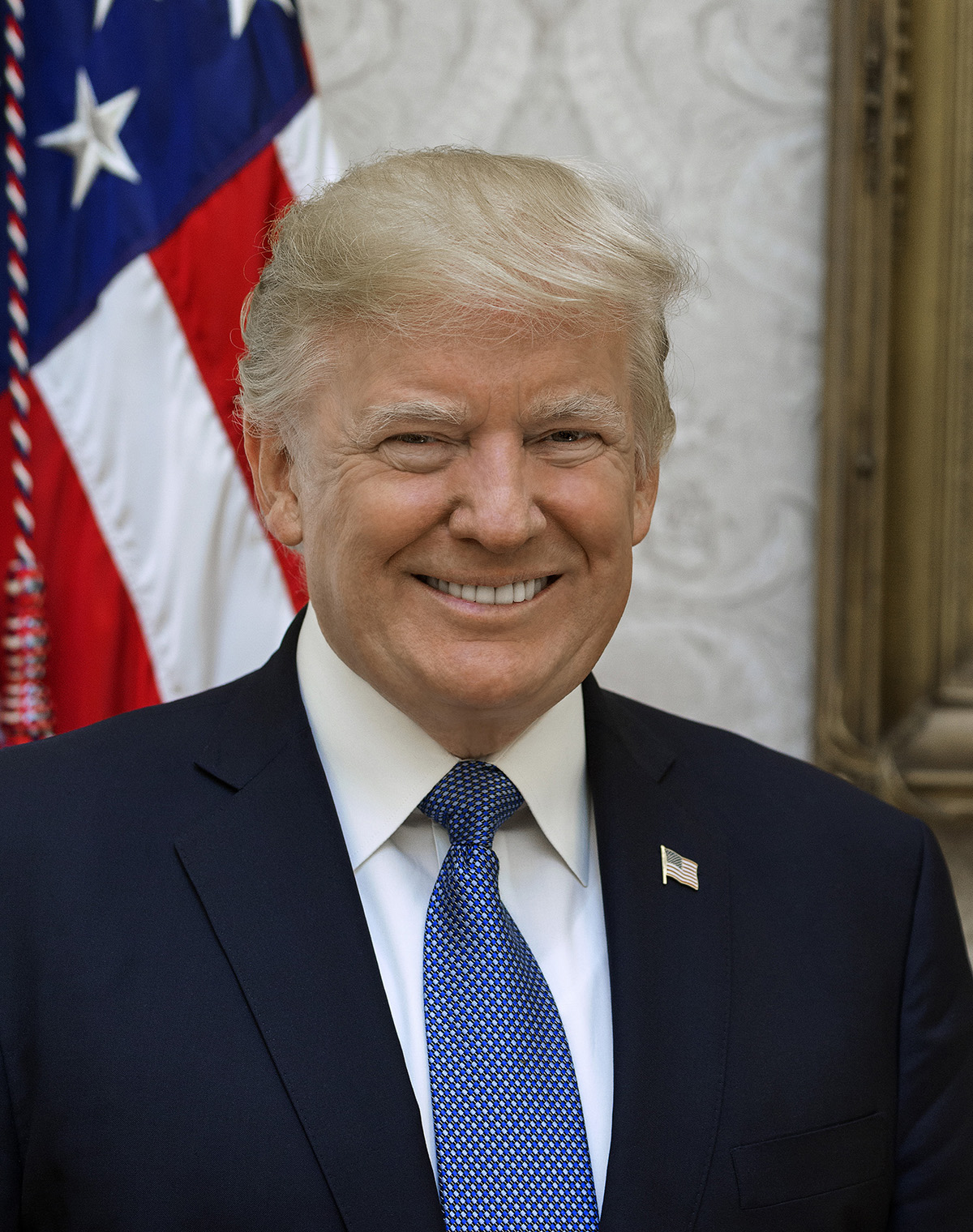 Donald Trump
Donald Trump * is the 45th President of the United States. Prior to his election, he was a real estate mogul, CEO, media personality, and author.
Trump was born to wealthy parents in Queens, New York on June 14, 1946. He attended the New York Military Academy in high school and then Fordham University for two years before transferring to the Wharton School of Business at the University of Pennsylvania. He graduated in 1968, and while at college used student and medical deferments to avoid being drafted into the Vietnam War.
Trump's father was a successful real estate developer with his own firm in New York, Elizabeth Trump & Son, which he handed over to Donald in 1971 when he was 25 years old. The younger Trump renamed the company The Trump Organization.
Over the subsequent years Trump was involved in many real estate ventures with the city of New York, and eventually expanded to casino ownership. Bad financial decisions during the late 1980's and early 1990's led to Trump declaring business bankruptcy four times and almost brought Donald to the brink of personal bankruptcy as well. His financial situation improved during the late 1990's coming into the 2000's, and in 2001 his company completed the 72-story Trump World Tower, a residential building across from the UN headquarters in New York City. Trump starred in a popular reality television series on NBC, The Apprentice, for 10 seasons.
President Trump has been married to his wife, Melania, for twelve years, and they are parents to their son, Barron. Mr. Trump also has four adult children, Don Jr., Ivanka, Eric, and Tiffany, as well as nine grandchildren.
Trump announced his candidacy for the Presidency on June 16, 2015. He then accepted the Republican nomination for President of the United States in July of 2016, having defeated seventeen other contenders during the Republican primaries.
On November 8, 2016, Trump was elected President despite losing the popular vote to Hillary Clinton by 2.1 percentage points, with 65,853,514 votes (48.18%) to 62,984,828 votes (46.09%). He won 30 states and a total of 306 electoral votes to 232 for Clinton.
As President, Trump has taken a number of steps to strengthen the U.S.-Israel relationship, some of which sparked controversy, such as his decision to recognize Jerusalem as the capital of Israel and Israeli sovereignty over the Golan Heights.
On August 20, 2019, Trump provoked controversy and condemnation from many Jewish organizations when he said, "I think any Jewish people that vote for a Democrat, I think it shows either a total lack of knowledge or great disloyalty" (JTA, August 20, 2019).
The following day he said, "If you vote for a Democrat, you're being disloyal to Jewish people, and you're being very disloyal to Israel." He then said of Rep. Rashida Tlaib, D-Mich., and the minority freshman congresswomen known as The Squad: "They are anti-Semites; they are against Israel." Tlaib "had a plan to greatly embarrass Israel." He added, that The Squad has "become the face of the Democratic Party. In my opinion the Democrats have gone very far from Israel….They want to take foreign aid away from Israel" (JTA, August 21, 2019).
"Tragically, Jewish men, women, and children continue to face anti-Semitic discrimination, persecution, and violence today, and Jewish institutions and places of worship remain targets of vandalism and destruction," Trump wrote for the commemoration of Jewish American Heritage Month in May 2020. "Such unconscionable acts are an abomination to all decent and compassionate people. Hatred is intolerable and has no place in our hearts or in our society. We must therefore vigorously confront anti-Semitic discrimination and violence against members of the Jewish community."
The president added, "Hatred is intolerable and has no place in our hearts or in our society. We must therefore vigorously confront anti-Semitic discrimination and violence against members of the Jewish community. That is why I signed an Executive Order last December, bolstering my Administration's efforts to combat the rise of anti-Semitism in the United States and build a culture of respect, humanity, and equality."
The proclamation also said, "Jewish Americans strengthen, sustain, and inspire our country through dedication to family, respect for cherished traditions, and commitment to the values of justice and equality that unite Americans of every faith and background. We give thanks for the profound contributions that Jewish Americans continue to make to our society, and way of life" (The White House, April 29, 2020).
Click here for more details on his positions.
*AICE does not rate or endorse any candidate for political office.