The Anschluss
(March 12, 1938)
The idea of an Anschluss (a united Austria and Germany that would form a "Greater Germany") began after the unification of Germany excluded Austria and the German Austrians from the Prussian-dominated German Empire in 1871. In 1918, following the end of World War I and the fall of the Austro-Hungarian Empire, the newly formed Republic of German-Austria attempted to form a union with Germany, but the Treaty of Saint Germain (September 10, 1919) and the Treaty of Versailles (June 28, 1919) stripped Austria of some of its territories, including the Sudetenland, and forbade both the union and the continued use of the name "German-Austria" (Deutschösterreich).
When the Nazis came to power, they were determined to bring ethnic Germans outside Germany into Greater Germany (the "Heim ins Reich" movement). Germany supported the Austrian National Socialist Party (Austrian Nazi Party), which failed to win any seats in the November 1930 general election but grew in popularity after Hitler came to power. The idea of Austria joining Germany also grew in popularity.
On July 25, 1934, Austrian Chancellor Engelbert Dollfuss was assassinated by Austrian Nazis in a failed coup. Afterward, leading Austrian Nazis fled to Germany, but they continued to push for unification from there. The remaining Austrian Nazis engage in a terror campaign against Austrian governmental institutions, causing a death toll of more than 800 between 1934 and 1938.
Dollfuss was succeeded by Kurt Schuschnigg, who used the police to suppress Nazi supporters. Meanwhile, Hitler gave a speech at the Reichstag on May 21, 1935, saying "Germany neither intends nor wishes to interfere in the internal affairs of Austria, to annex Austria or to conclude an Anschluss."
On July 11, 1936, Schuschnigg signed a treaty with Germany in which he agreed to the release of Nazis imprisoned in Austria and Germany promised to respect Austrian sovereignty. Under the terms of the Austro-German treaty, Austria declared itself a "German state" that would always follow Germany's lead in foreign policy, and members of the "National Opposition" were allowed to enter the cabinet, in exchange for which the Austrian Nazis promised to cease their terrorist attacks against the government.
Seyss-Inquart and Hitler with Himmler and Heydrich in Vienna, March 1938
Hitler was not satisfied, however, and feared that Germany's economic problems were causing it to fall behind in the arms race with Britain and France and that the only solution was to seize Austria and Czechoslovakia to plunder their economies. He demanded that Austria agree to a union, presenting Schuschnigg with a series of demands during a meeting at Berchtesgaden on February 12, 1938. Schuschnigg hoped to avoid the takeover of Austria and agreed to appoint Nazi sympathizers to positions of power in the government. The key appointment was that of Arthur Seyss-Inquart as Minister of Public Security. In return Hitler agreed to reaffirm his support for Austria's national sovereignty.
Ominously, however, Hitler gave a speech before the Reichstag on February 20, 1938, in which he said, "The German Reich is no longer willing to tolerate the suppression of ten million Germans across its borders."
On March 9, 1938, in the face of rioting by the small, but virulent, Austrian Nazi Party and ever-expanding German demands on Austria, Schuschnigg called a referendum on a union with Germany to be held on the13th. Nevertheless, Hitler threatened to invade Austria and demanded Schuschnigg's resignation and the appointment of Seyss-Inquart as his replacement. Hitler's plan was for Seyss-Inquart to call immediately for German troops to rush to Austria's aid, restoring order and giving the invasion an air of legitimacy.
Hitler declared that the referendum would be subject to major fraud and that Germany would never accept it. In addition, the German ministry of propaganda issued press reports that riots had broken out in Austria and that large parts of the Austrian population were calling for German troops to restore order. Schuschnigg subsequently cancelled the referendum.
Schuschnigg desperately sought support for Austrian independence in the hours following the ultimatum. Realizing that neither France nor Britain was willing to offer assistance, Schuschnigg resigned on March 11, but President Wilhelm Miklas refused to appoint Seyss-Inquart as Chancellor. The following day, however, Miklas resigned and Seyss-Inquart was installed as Chancellor.
On the morning of March 12, 1938, the 8th Army of the German Wehrmacht crossed the border into Austria where it faced no resistance. The troops were greeted by cheering Austrians with Nazi salutes, Nazi flags, and flowers. That afternoon, Hitler crossed the border at his birthplace, Braunau am Inn, and later went to Linz where he was given an enthusiastic welcome.
Many Germans from both Austria and Germany welcomed the Anschluss as they saw it as completing the complex and long overdue German unification of all Germans united into one state. Hitler had originally intended to leave Austria as a puppet state with Seyss-Inquart as head of a pro-Nazi government. However, the overwhelming reception caused him to change course and absorb Austria into the Reich. On March 13, Seyss-Inquart announced the revocation of Article 88 of the Treaty of Saint-Germain, which prohibited the unification of Austria and Germany.
Cheering crowds greet the Nazis in Vienna
Hitler crosses the border into Austria
(March 1938)
Hitler announces the Anschluss on the Heldenplatz Vienna
(March 15, 1938)
Hitler's journey through Austria became a triumphal tour that climaxed in Vienna on March 15, 1938, when around 200,000 cheering German Austrians gathered around the Heldenplatz (Square of Heroes) to hear Hitler say that "The oldest eastern province of the German people shall be, from this point on, the newest bastion of the German Reich."
On April 10, 1938, a referendum was held asking Austrians: Do you agree with the reunification of Austria with the German Reich that was enacted on March 13, 1938, and do you vote for the list of our leader Adolf Hitler? Officials said nearly every Austrian voted (99.71%) and approved of the union (99.73%).
Choice
Votes
%
For
4,453,912
99.73
Against
11,929
0.27
Invalid/blank votes
5,777
–
Total
4,471,618
100
Registered voters/turnout
4,484,617
99.71
Source: Direct Democracy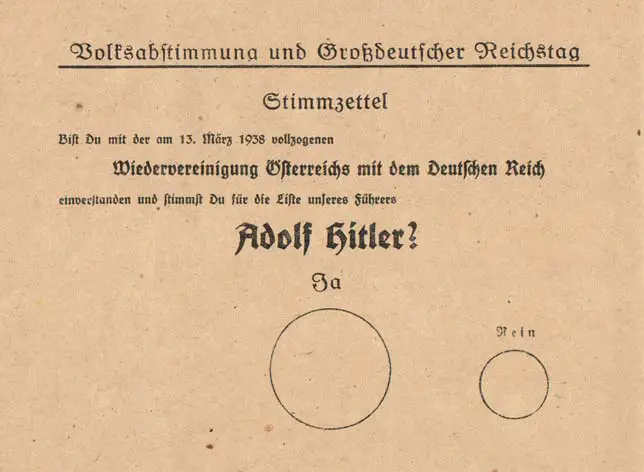 Voting ballot from April 10, 1938
The campaign against the Jews began immediately after the Anschluss. The Nuremberg Laws were adopted in May 1938 and later reinforced with additional anti-Semitic decrees. On Kristallnacht, on November 9-10, synagogues were destroyed, and Jewish shops were plundered and closed. More than 6,000 Jews were arrested overnight, the majority deported to Dachau. Jews were gradually robbed of their freedoms, blocked from almost all professions, shut out of schools and universities, and forced to wear yellow badges. The Nazis dissolved Jewish organizations and institutions, hoping to force Jews to emigrate. Their plans succeeded – by the end of 1941, 130,000 Jews had left Vienna, 30,000 of whom went to the United States. They left behind all their property, but were forced to pay the Reich Flight Tax, a tax on all émigrés from Nazi Germany; some received financial support from international aid organizations so that they could pay this tax. Most of the Jews who had stayed in Vienna eventually became victims of the Holocaust. Of the more than 65,000 Viennese Jews who were deported to concentration camps, fewer than 2,000 survived.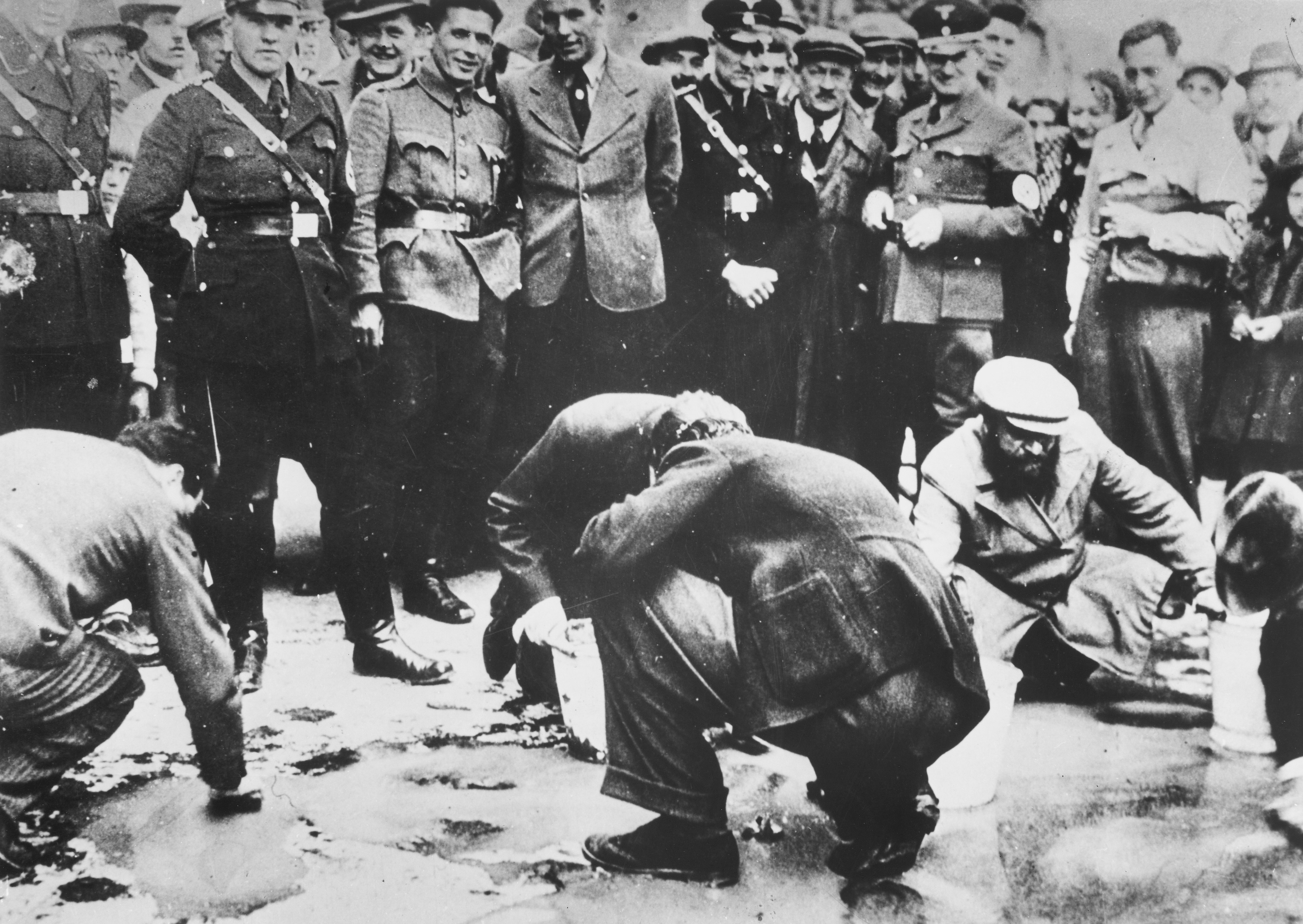 Immediately after the Anschluss, Vienna's Jews were forced to
wash pro-independence slogans from the city's pavements.
---
Sources: "1938 Austrian Anschluss referendum," Wikiwand;
"Anschluss," Wikiwand.
Photos: Seyss-Inquart and Hitler, Bundesarchiv, Bild 119-5243 / CC-BY-SA 3.0.
Hitler announces the Anschluss, Bundesarchiv, Bild 183-1987-0922-500 / CC-BY-SA 3.0.
Cheering crowds greet the Nazis in Vienna, Bundesarchiv, Bild 146-1985-083-10 / CC-BY-SA 3.0
Bundesarchiv, Bild photos licensed under the Creative Commons Attribution-Share Alike 3.0 Germany license.
Hitler crosses the border into Austria in March 1938, licensed under the Creative Commons Attribution-Share Alike 4.0 International license.
Vienna Jews and voting ballot, public domain.