The Book of the People of the Book: Seventeenth Century Bibles
It is not easy to choose among the many notable seventeenth- century editions of the Hebrew Bible, but certainly the 1667 edition of Amsterdam's famed printer, Joseph Athias, is "first among equals." The edition is justly esteemed for the correctness of its text and the distinction of its typography. For over two centuries, its text was the standard, and for almost as long, books printed in a variety of European cities carried the boast, "printed in Amsterdam type." Born into a Marrano family (Jews forced to adopt Christianity in Spain or Portugal-or their descendants-who chose to secretly cling to the ancestral faith and observe as much as possible its commandments) in Cordova in 1635, Athias fled to Hamburg as a youth so he might openly practice his religion. In 1658, now a well-to-do resident of Amsterdam, he became a publisher of books. His press soon grew into one of the leading ones in that great publishing city, printing books in Hebrew, Dutch, and Latin, and some one million English Bibles for England and Scotland. His finest production was a Hebrew Bible, painstakingly edited by the University of Leyden's Professor of Hebrew, Johannes Leusden, and produced with such care and artistry that, upon its publication in 1661, Athias was elected to the Amsterdam printer's guild-an unprecedented honor for a Jew. For its second improved edition which appeared in 1667, the Dutch government presented him with a gold medal and chain. Athias meant this Bible for both Jews and Christians. His own status as a leading member of the Jewish community and a printer of sumptuous Hebrew prayer books assured its acceptance by Jews; Leusden's name, prominently featured on the engraved title page, attracted Christians. In the center of the title page stands the rampant sword-brandishing Netherland lion, and on the top and bottom of the engraving appear the biblical verses:

And this is the law which Moses set before the children of Israel. (Deut. IV:44) Moses commanded us a law, an inheritance of the congregation of Jacob. (Deut. XXXIII: 4)

And the Lord said unto Moses: "Come up to Me unto the mount, and be there; and I will give thee the tables of stone, and the law and commandment, which I have written, that thou mayest teach them." (Exodus XXIV: 12)

At the top, in bold black Hebrew letters inscribed on a field of effulgent light, is the name of God.
The engraved title page of one of the most important editions of the Hebrew Bible, for which the publisher, Joseph Athias of Amsterdam, received a gold medal and chain from the Dutch government (Hebraic Section, Library of Congress Photo).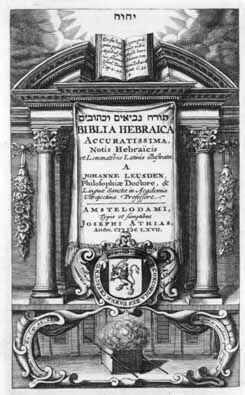 ---
Sources:Abraham J. Karp, From the Ends of the Earth: Judaic Treasures of the Library of Congress, (DC: Library of Congress, 1991).