The monumental Russian Compound was built in Jerusalem between 1860 and 1864 to serve the many Russian pilgrims, who were at that time more numerous than the pilgrims from any other country. Before World War I, the average annual number of Russian pilgrims was about 14,000 – some even made the entire pilgrimage from Russia on foot! All the building materials for the compound, as well as the furniture for the seven buildings, were brought from Russia by a Russian shipping line established for that purpose, which also brought shiploads of pilgrims.
Holy Trinity Russian Orthodox Cathedral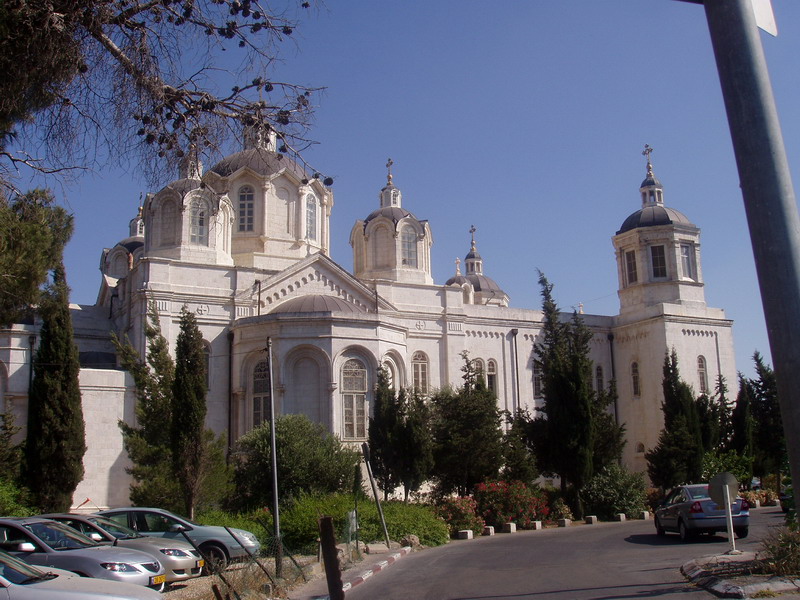 The Imperial Orthodox Palestine Society, based in St. Petersburg, was the initiator and backer of the huge undertaking, and Russian architect Martin Ivanovich Eppinger was responsible for its design and building. Spread over 18.5 acres and clearly influenced by Byzantine architecture, the compound consisted of the Cathedral of the Holy Trinity, the residence of the Russian Orthodox religious mission, a consulate, a hospital and separate hostels for men and women, with 2,000 beds. Sometimes tents had to be erected to accommodate the crowds!
The Sergei Imperial Hospice, named after Grand Duke Sergei, brother to Czar Alexander III, and then President of the Provoslavic Palestine Association, occupied nine acres of land and was completed in 1889; its 25 luxuriously furnished rooms were intended as lodgings for aristocrats. In 1870, the newspaper "Havatzelet" commented about the hospice: "The new hostel for the Russians, this huge and splendid building, is made entirely out of hewn stone and is one of the most marvelous buildings in our city"; and describes the cathedral as, "a fabulous structure standing on a lofty site."
Before World War I, the large courtyards contained stables, storerooms, chicken coops, wells and a laundry. During the British Mandate period, the buildings housed government offices, such as the Public Works Department and the Immigration Office. The Russian Mission remained in one of the buildings until 1967.
The property, except for the cathedral and one building, was purchased by the government of Israel in the 1960s. The Jerusalem municipality was built here; the Ministry of Agriculture, magistrate and district courts, Jerusalem's police headquarters and a detention facility, as well as the offices of the Society for the Preservation of Nature, are housed in the compound's buildings. In the former Russian consulate, now part of the municipality complex, the offices of the Jerusalem Development Authority and Moriah (the Jerusalem Development Company) are now located.
The Russian compound presents the largest potential site for development in the center of Jerusalem. Plans include a circular public plaza around the cathedral, a shopping center with underground parking and renovation and redesignation of historic buildings.
---
Sources: Israeli Foreign Ministry; Ministry of Defense Museum Unit
Photo: Magister