Josephus Flavius
(37 - c. 100 CE)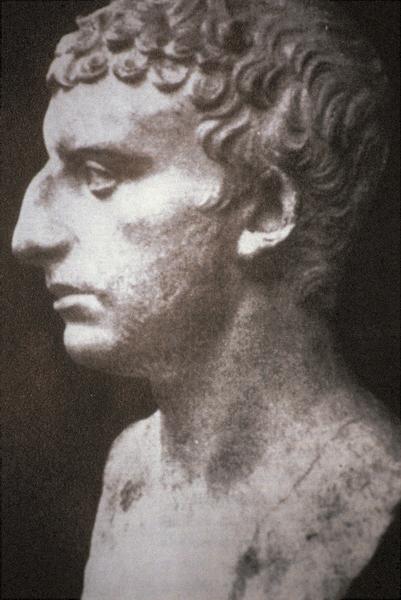 Flavius Josephus (a.k.a. Joseph ben Matityahu in Hebrew) was a Jew who grew up in Jerusalem at the beginning of the Common Era. He was well educated, knowing both Jewish texts and the Greek language (although his Greek grammar was faulty). During the Great Revolt from 66-73 CE, Josephus served as a general of the Galilee. When the Roman army overcame his forces, Josephus and 40 compatriots fled to a cave. They agreed to commit suicide. Josephus fixed the lots so that his name would come out last. After the others killed themselves, Josephus convinced the remaining fighter to surrender with him.
As a prisoner of the Romans, Josephus volunteered to write the history of the Great Revolt. General (later Emperor) Vespasian agreed. In The Jewish War, Josephus thus provided the Romans (and now us) with a first-hand account of the fall of Jerusalem in 70 CE. It must be emphasized that Josephus was writing for Vespasian - he was also writing from Rome - so his work is definitely biased. He mentions several times in his Greek writings that he created an Aramaic version of the events as well, but unfortunately, it is not extant.
Josephus' second major work, Jewish Antiquities, described the entire history of the Jews. It included a great deal of material from the time of Alexander the Great to the destruction of the Second Temple. However, because of Josephus' proclivity to depend on hearsay and legend, scholars are never sure what to accept as fact.
The Greco-Roman period involved the most changes in Judaism. It is also the most obscure to historians. We don't know a great deal about Jewish history from the time of Alexander the Great until the Bar Kochba Revolt. Our sources are few. They include:
1. Brief incidents in the New Testament
2. Brief references by the sages in rabbinic literature
3. Obscure texts found at Qumran (the Dead Sea Scrolls)
4. Some brief mentions by Greek and Roman writers
5. Flavius Josephus
Because of the paucity of other sources, Josephus' works are the most thorough histories of the period that we have. So long as we retain some skepticism, his writings provide the greatest insight into what happened to the Jewish people during that five-hundred-year period.
---
Source: Gates to Jewish Heritage.
Wikipedia.