Joseph Soloveitchik
(1903-1993)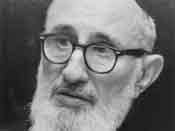 Joseph Ber (Yosef Dov) Soloveitchik was an Orthodox rabbi, Talmudist and modern Jewish philosopher.
Over the course of almost half a century he ordained close to 2,000 rabbis who took positions in Orthodox synagogues across America; they were able to relate to their less traditional congregants, drawing them closer to traditional Jewish observance with quite a few becoming religiously observant. He served as an advisor, guide, mentor, and role model for tens of thousands of Modern Orthodox Jews as their favorite Talmudical Scholar and religious leader.
In the following picture, Rabbi Soloveitchik can be seen at the extreme right, pointing up, giving a class in Talmud :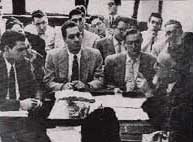 Rabbi Soloveitchik inherited his father's, Rabbi Moses (Moshe), position as head of the RIETS rabbinical school at Yeshiva University in 1941 . He was a scion of the famous Soloveitchik Lithuanian rabbinical dynasty going back some 200 years and grandson of the renowned rabbinical scholar Rabbi Chaim Soloveitchik, grandson as well as name-sake, of his great grand-father Rabbi Yosef Ber Soloveitchik known for his work as the Bais HaLevi on Talmud .
Rabbi Joseph Ber Soloveitchik was educated in the traditional manner at a Talmud Torah, an elementary yeshiva, and by private tutors as his parents realized his great mental powers. Soon after marriage to Tonya, he moved to Berlin in Germany where he remained for almost a decade studying at the University of Berlin obtaining a Ph.D. based on the philosophy of the great German philosopher Herman Cohen, and simultaneously maintaining a rigorous schedule of intensive Talmud study. During his years in Berlin, he made the acquaintance of two other young scholars pursuing similar paths to his own. One was Rabbi Menachem Mendel Schneerson who was destined to command the Chabad Lubavitch movement centered in Brooklyn , New York and the other was Rabbi Yitzchok Hutner who would become the Dean of the Yeshiva Rabbi Chaim Berlin also in Brooklyn, New York. Each developed a system of thought that bridged the Eastern European way of traditional scholarship with the new forces of modernity in the Western World.
During his tenure at Yeshiva University in addition to his Talmudic lectures, he deepened the system of "synthesis" whereby the best of religious Torah scholarship would be combined with the best secular scholarship in Western civilization. This has become known as the Torah U'mada - "Torah and Science" philosophy unique to Yeshiva University. He authored a book on Jewish thought called "The Lonely Man of Faith" that has somehow been associated with his own stance on issues, the willingness to stand alone in the face of monumental challenges. Through public lectures, writings, and his policy decisions for the moderate Modern Orthodox world, he strengthened the intellectual and ideological framework of Modern Orthodoxy.
In his early career in America he joined with the traditional movements such as Agudath Israel of America and the Agudat Harabanim - the Union of Orthodox Rabbis of North America. However as he became entrenched in the Modern Orthodox outlook, he removed himself from the former organizations, and instead joined with the Mizrachi Religious Zionists of America (RZA) and the centrist Orthodox Rabbinical Council of America (RCA), where many of his students were to be found in leadership positions. Whilst he was bound scholastically and through family connections to the more Haredi Agudath Israel group, his world-view had placed itself at the center of Modern Orthodox Judaism , with its stress on excellence in secular studies, the professions, and active Zionism .
He thus became a "lightning rod" of criticism from two directions: From the "left" he was viewed as being too connected to the Old World of Europe, whilst for those to the "right" he was seen as legitimizing those wanting to lower their religious standards in the attempt to modernize and Americanize. He was staunchly proud of his connections to the Soloveitchik rabbinic dynasty, speaking fondly of his "uncles" and chiding them from time to time in public. To his relatives and namesakes who now lived in Jerusalem where they had established their own branch of the staunchly anti-Zionist Brisk Yeshiva, he was respected for his supreme genius in Talmudic scholarship which few could challenge, yet they saw him as their wayward cousin who had departed from the family Haredi "party line."
His independence became very clear when in 1956, all the major Haredi rabbinical heads of the Yeshivot, including two from his own Yeshiva University signed and issued a proclamation forbidding any rabbinical alumni of their yeshivot from joining with Reform Judaism and Conservative Judaism rabbis in professional organizations. Rabbi Soloveitchik refused to sign it outright, maintaining that there were areas, particularly relating to problems that threaten all of Judaism that required co-operation regardless of affiliation.
Since he was accepted as the pre-eminent leader of politically conscious pro-Zionist modern Orthodox Judaism, out of respect for this, many leaders and politicians from Israel sought his advice and blessings in state affairs. Prime Minister Menachem Begin reputedly offered him the position of Chief Rabbi of Israel, but he quietly and consistently refused this offer. Ironically, despite his open and passionate love for the modern State of Israel, he never visited the country. Perhaps because the name Soloveitchik meant something entirely different in Israel than it does in America.
He unfailingly captured the adoration of his students. He was known as the "Rav", he became the greatest leader of Modern Orthodoxy in the twentieth century, often espousing relatively very liberal positions on educational, political, and social issues within the Orthodox world. His ordination of over 2000 Orthodox rabbis at Yeshiva University, during forty years at the helm, attests to his power and efficacy as well as his consistency and determination.
He would refer to himself as "The Soloveitchik of Boston". He pioneered one of the first Hebrew day schools in Boston in 1936 where he originally intended to settle and resided there when not teaching in New York. He involved himself in all manner of religious issues in the Boston area. He was at times both a rabbinical supervisor of kosher slaughtering - shchita- and gladly accepted invitations to lecture in Jewish and religious philosophy at prestigious New England colleges and universities. His own son-in-law was on the faculty of Harvard.
Not satisfied that young Orthodox women were granted the opportunity to study at their own academic college (Stern College of Yeshiva University) ,he advocated more intensive textual Torah studies for Jewish women, giving the first class in Talmud inaugurated at Stern College, the women's division of Yeshiva College - University. With his enlightened outlook, he attracted and inspired many young men to become rabbis and educators, together with their wives coming with similar education and values. They in turn went out with the education of Yeshiva University to head synagogues, schools and communities, where they influenced many Jews to remain Orthodox. He attracted many others to the cause of Orthodoxy. Among his alumni are Rabbis Nachman Bulman, Shlomo Riskin, and Ephraim Buchwald and many others who became leaders of the Baal teshuva movement.
His children married prominent academics and Talmudic scholars, one to Rabbi Dr. Aaron Lichtenstein Dean of Gush Etzion Yeshiva in Israel (with a Ph.D from Harvard University), another to the late Rabbi Dr. Isadore Twersky former head of the Jewish Studies department at Harvard University (also served as the Talner Rebbe in Boston), and his son Rabbi Dr. Haim Soloveitchik is a professor of Jewish History at Yeshiva University. His grandchildren have maintained his heritage and also hold high scholarly positions. As he got older he suffered several bouts of serious illness. Family members cared for his every need and distinguished people came to visit him in his last years in Boston, where in 1993 he was laid to rest at the age of ninety.
---
Sources: Wikipedia. Photo courtesy of Yeshiva University.