José Ignacio Burbano
By Darlene P. Campos
José Ignacio Burbano, an Ecuadorian consul stationed in Germany during Nazi rule, saved the lives of 40 Jewish families by issuing them Ecuadorian visas.
Burbano was born on October 14, 1890, in Ibarra, Ecuador to Jose Antonio Burbano and Pastora Rosales. He earned his bachelor's degree from Colegio Mejía de Quito in 1909 and, by 1913, he founded a school called Escuela Superior Laica 28 de Septiembre (Secular High School 28th of September). That same year, Burbano began a journalism career for El Esfuerzo (The Effort), as a writer and editor. In the early 1920s, Burbano became the principal of Colegio Bolívar de Tulcán, but in 1925, he accepted a position with the Ecuadorian government. He began his career at the Consulate of Ecuador in Paita, Peru.
In 1936, Burbano was appointed as Ecuadorian consul of Bremen, Germany. In the documentary An Unknown Country, Burbano's granddaughter, Betty Adler, discusses a letter he wrote to the Ecuadorian government about the injustices happening to German Jews and urged his superiors for permission to intervene. Following his letter, Burbano obtained authorization from the Ecuadorian government to grant visas to 40 Jewish families, but only if the families were agricultural workers – a condition he ignored. Alfredo Baier, for example, was eight years old when Kristallnacht occurred in November 1938. His father was arrested simply for being Jewish. When Baier's father was released, the family wanted to leave Germany immediately. Acquiring a visa seemed impossible until they met Burbano. Thanks to his aid, the Baiers safely fled to Ecuador.
Burbano courageously saved Jewish families from 1936 to 1940 until he was relieved of his duties. He was relocated to the Ecuadorian consulate in Houston, Texas, where he lived and worked until the mid-1950s when he returned to Ecuador for retirement.
Many years later, Burbano's daughter, Berta, married Friedrich Adler, an Austrian Jew who had found refuge in Guayaquil, Ecuador in 1939, thus bringing Burbano's actions full circle. By saving Jewish families together with the Ecuadorian government, Burbano unknowingly also saved his own future son-in-law and grandchildren.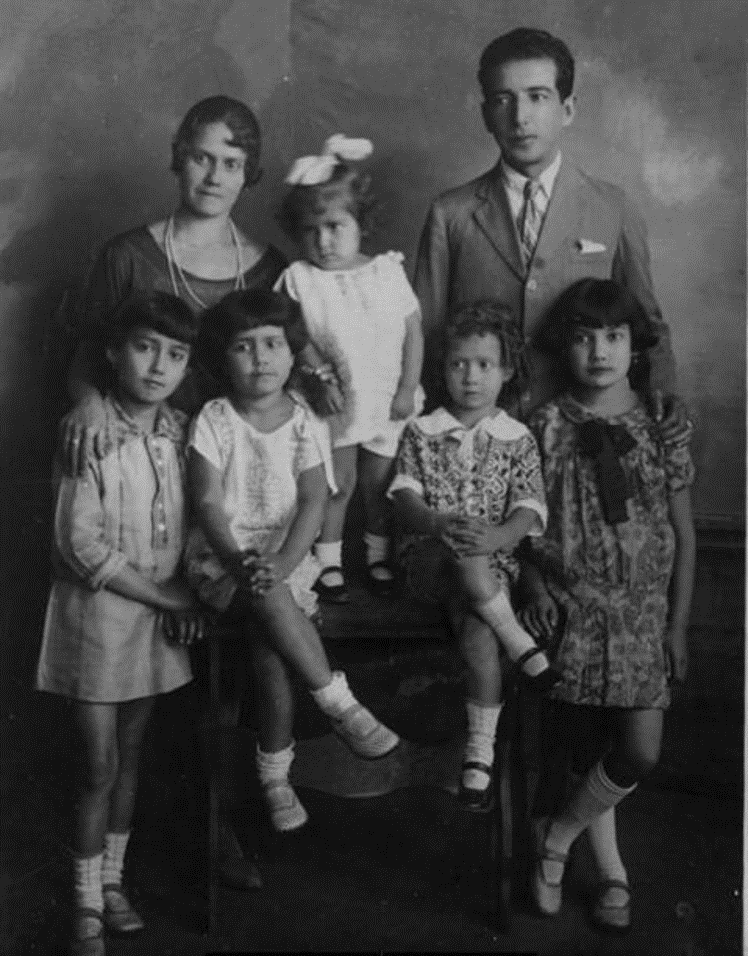 The Burbanos, circa late-1920s or early 1930s, photo provided by his family
Today, Burbano is fondly remembered by the people he saved and their descendants. The book Wo liegt Ecuador? written in German by Maria-Luise Kreuter, describes how some Ecuadorian officials took advantage of Jewish families by charging them extreme amounts of money in visa fees. Burbano, however, was a "liebenswerter Mensch" (lovable man) who charged much less than the amount required by the Ecuadorian government, which led to Burbano's removal from his post in Bremen.
Alfredo Baier wrote in a personal testimony, "Through the courageous action of José Ignacio Burbano, my family was granted a visa that certified my father was involved in the agriculture business, which he was not. We traveled to Ecuador on the Caribia steamboat, operated by the Hamburg Amerika Company, which sailed to Guayaquil March 11, 1939. I was a 9 year old boy when I arrived in Ecuador. My sister Erika was 12 years old. I have lived happily here since."
After he retired, Burbano shifted his focus to writing poetry and prose. In 1969, Burbano composed his autobiography, Silhouette. During his final years of life, he was selected as a member of the distinguished Real Academia Española (Royal Spanish Academy) for his creative and academic writing. Burbano was happily married to María Genoveva Viteri Guzmán for more than fifty years. They had six daughters and one son. In 1973 in Quito, Ecuador, Burbano died from a heart attack just one day after the death of his wife. A street in Ibarra, Ecuador is named after him in honor of his lifelong service to his country.
---
Works Cited
Angulo Benavides, Ana. "El Rastro Nazi En Ecuador [The Nazi Trail in Ecuador]." Vistazo, 24, April 2015, pp. 44–46.
"Holocausto parte 2, Programa 5 – Bloque 2" [Holocaust part 2, Program 5 – Block 2]. YouTube, Visión 360, 27 Apr. 2015, https://www.youtube.com/watch?v=uo7yneR8qko.
Ortiz Crespo, Gonzalo. "De La Noche De Los Cristales Rotos a La Hospitalidad Ecuatoriana [From Kristallnacht to Ecuadorian Hospitality]." El Comercio, Grupo El Comercio, 4 Nov. 2018, https://www.elcomercio.com/tendencias/noche-cristales-rotos-hospitalidad-ecuatoriana.html.
"Rosales Burbano José Ignacio." Enciclopedia Del Ecuador, Enciclopedia Del Ecuador, http://www.enciclopediadelecuador.com/personajes-historicos/jose-ignacio-burbano-rosales/.
Viteri, María Amelia. "José Ignacio Burbano Rosales." Personal History Including Letters, Photos, and Emails. PDF. 2016.
Viteri, María Amelia, Ph.D., and Adler, Betty. "Statement on Behalf of Sr. Don José Ignacio Burbano Ecuadorian Consul in Bremen, Germany, Who Issued Visas to Ecuador to 40 Jewish Families During World War II, thus saving their lives." Letter to the general public. 8 December 2009. Washington, D.C. Received in person by Darlene P. Campos, 27 December 2018.
Zelig, Eva, director. An Unknown Country. Grillo Productions, 2015.
Photo of José Ignacio Burbano, circa 1940, photo provided by his family.
About the Author
Darlene P. Campos earned her MFA in Creative Writing from the University of Texas at El Paso. She also holds a BA in English-Creative Writing with a minor in Medicine and Society Studies from the University of Houston. Campos has independently studied the Holocaust for several years and is an active member of Holocaust Museum Houston and the United States Holocaust Memorial Museum. She is an English educator for Lone Star College System, a novelist for young adults, and a freelance writer of children's stories for Heinemann Publishing. She is a dual citizen of the United States and Ecuador and currently lives in Houston, Texas with her husband, David.
Many thanks to Betty Adler and María Amelia Viteri for sharing their grandfather's story.