Jamal al-Din al-Afghani
(1838-1897)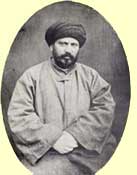 Journalist, reformer. A founder of modern Muslim anti-colonialism, he advocated a religious and cultural revival to counteract European influence. Jamal al-Din Afghani is considered to be the founding father of Islamic modernism. His place of birth, which has become a source of long-standing controversy, is not known, but he received his early education in various religious schools near Kabul, Afghanistan and Tehran, Iran. He went to India in 1855-6 to continue his studies. In 1870, he traveled to Istanbul where he received a warm welcome from Ottoman officials and intellectuals who were instrumental in the creation of reforms. Afghani went to Egypt in 1871 and remained there for the next eight years, during which time he began to spread his philosophical and political ideas through classes and public lectures.
In 1886, he was invited by Shah Nasir al-Din to Iran and offered the position of special adviser to the Shah, which he accepted. Afghani, however, was critical of the Shah's policies, and this differing of opinion forced Afghani to leave Iran for Russia in 1886, where he remianed until 1889. In 1889 on his way to Paris, Afghani met Shah Nasir al-Din in Munich and was offered the position of grand vizier. Although he accepted, Afghani's unabated criticisms of the rule and conduct of the Shah led to his eventual deportation from Iran in the winter of 1891. Afghani was later implicated in the murder of Shah Nasir al-Din in 1896.
Afghani spent the last part of his life in Istanbul under the patronage and, later surveillance of Sultan 'Abd al-Hamid II. The demands for Afghani's extradition by the Iranian officials for his alleged involvement in the assassination of Shah Nasir al-Din were rejected by 'Abd al-Hamid who collaborated with Afghani in the implementation of his political program of pan-Islamism or Islamic unity, "ittihad-i islam." Afghani sent a number of letters to various Islamic countries and leaders to mobilize and unite them against British rule, while at the same time trying to establish the foundations of a mutual rapprochement between the Sunnis and the Shi`ites. Despite his efforts to unite Muslims, 'Abd al-Hamid eventually grew suspicious of Afghani's meetings with Arab leaders and the British officials in Istanbul, and his policy of supporting Afghani changed, not permitting him to leave the country. Not long after on March 9, 1897, Afghani died of cancer and was buried in Istanbul.
Afghani's career as a thinker and activist had a deep impact on the Islamic world and continues to be a source of inspiration and controversy for many today. Afghani's project of Islamic modernism that he developed in his lectures, polemics, short essays, and newspaper columns was based on the idea of finding a modus vivendi between traditional Islamic culture and the philosophical and scientific challenges of the modern West. Afghani's political program of pan-Islamism, "ittihad-i islam," sought to mobilize Muslim nations to fight against Western imperialism and gain military power through modern technology. Afghani's call for the independence of individual Muslim nations was a key factor in the development of "Islamic nationalism," and influenced such Muslim figures as Muhammad Iqbal, Muhammad Ali Jinnah and Abu'l Kalam Azad in the Indian subcontinent.
---
Sources: "Jamal al-Din al-Afghani," Center for Islam and Science, Saudi Aramco World, Jan-Feb. 2002, Photo courtesy Center for Islam and Science