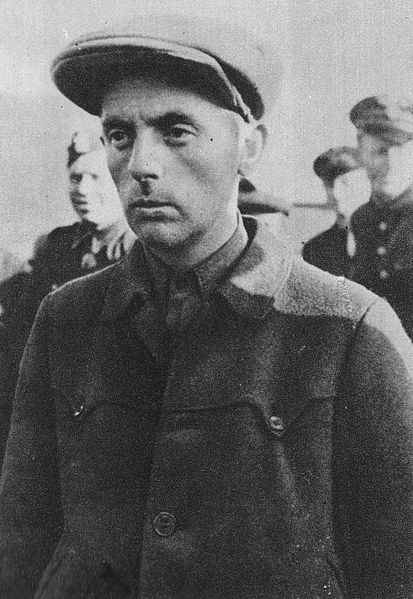 Hans Biebow standing trial for his
crimes, 1947.
Hans Biebow was the Chief of the German Nazi administration in Poland's Lodz ghetto; the second largest ghetto established by the Nazis in occupied Europe.    
Born in Bremen, Germany, Biebow originally followed in his father's footsteps working for an insurance company after graduating from Secondary School. The insurance business proved to not be as lucrative as he hoped, and he eventually found successful work in his home town importing coffee.
In 1940, 38-year-old Biebow was appointed head of the Lodz ghetto's Food and Economic Office, later to be renamed Ghetto Administration. Under his direction the Ghetto's population suffered unimaginably, with outside food and supplies cut off and more than 200,000 people crammed into a small section of the city. Biebow personally ordered the Ghetto sealed off, and was directly responsible for the food shortages within the Ghetto.  
Biebow built factories in the ghetto and used Jews as slave labor, concerned only with productivity and profits. Although he took part in deportations of Jews to death camps, Biebow was a proponent of using the Jews for cheap labor rather than killing them, in part because he was pocketing some of the profits from the ghetto as well as benefiting from possessions stolen from the Jews.
He may have opposed the killing of Jews initially, but he became an active supporter once the Nazis began deporting tens of thousands of Jews to the extermination camp at Chelmno and later Auschwitz. The Germans went to great lengths to deceive the Jews about their fate. Biebow personally encouraged Jews to leave. He gave a speech in the tailors' workshops on August 7, 1944, suggesting that Jews would replace German workers who had been transferred to the front and that their lives would be saved by volunteering for the transports.
Siemens, A.G. Union, Schukert, every place where munitions are made, need workers. In Czenstochau [Czestochowa], where workers are employed in munitions plants, they're very satisfied, and the Gestapo is also very satisfied with their work. After all, you want to live and eat, and you will have that….
Because of this, the Lodz ghetto was one of the longest-lasting Ghettos in Nazi occupied Europe. When the Nazis ordered the Lodz ghetto closed in 1944, Biebow promised work in the West to the Jews being loaded onto trains to take them to their deaths at Auschwitz. Approximately 150,000 Jews and several thousand Roma who passed through the ghetto were murdered.
Biebow managed to hide in his home town of Bremen immediately after the war until a survivor of the ghetto recognized him. He was subsequently extradited to Lodz, where he was tried and convicted of war crimes in April 1947. He was hung on June 23, 1947.
---
Sources: Hans Biebow, Wikipedia, (January 17, 2018);
Hans Biebow, Yad Vashem, (January 17, 2018);
Wikimedia.