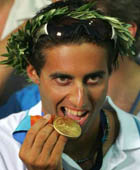 ---
Gal Friedman is an Israeli Olympic sailor and the first Israeli to ever win a gold medal at the Olympic Games.

Friedman (born September 16, 1975) was born in Hadera, Israel, and acquired his love of sailing from his family. His father competed in sailing from 1978 onward and as a child he always lived by the ocean.

Friedman won the silver medal at the 1995 and 1996 World Championships and placed second in the European Championships both years. He was named Israel's Sportsman of the Year in 1996.

A member of the Israeli sailing team at the 1996 Atlanta Olympics, Friedman competed in the men's mistral (sailboard) event. He took the bronze medal, only the third medal won by an Israeli athlete in Olympic history. After winning the medal, Friedman said: "There are no words to describe this, but I feel very good...I felt the whole of Israel was watching me."

After the success in Atlanta, Friedman failed to make the Olympics for Sydney 2000. He bounced back, however, starting with the 2001 European Championships in France where he won the bronze. In 2002, he was the best mistral sailor in the world and won gold at the World Championship in Thailand as well as the silver in the European Championships. In 2003, Friedman captured the bronze in the World Championships at Cadiz. On May 25, 2004 Friedman won the Israeli National Championships by such a wide margin, that he sat out the third and final day of sailing.

At the 2004 Olympics, Gal competed in the Mistral sailing event, an event that includes 11 races, and won the gold medal over Nikolaos Kaklamanakis of Greece, thus becoming the first Israeli ever to win a gold medal in Olympic competition. The President of Israel, Moshe Katsav, the Israeli Prime Minister, Ariel Sharon, and other senior Israeli officials and politicians at the time called Fridman to congratulate him. The minister of Education, Culture, and Sports, Limor Livnat, flew to Athens for the awards ceremony. He dedicated his medal to the memory of the 11 Israeli athletes assassinated by members of the Black September organization, during the Munich Olympics (1972).

Friedman was inducted into the International Jewish Sports Hall of Fame in 2005.
---
Sources: Lifestyles Magazine; Jews In Sports; Wikipedia