Expansion of the Abraham Accords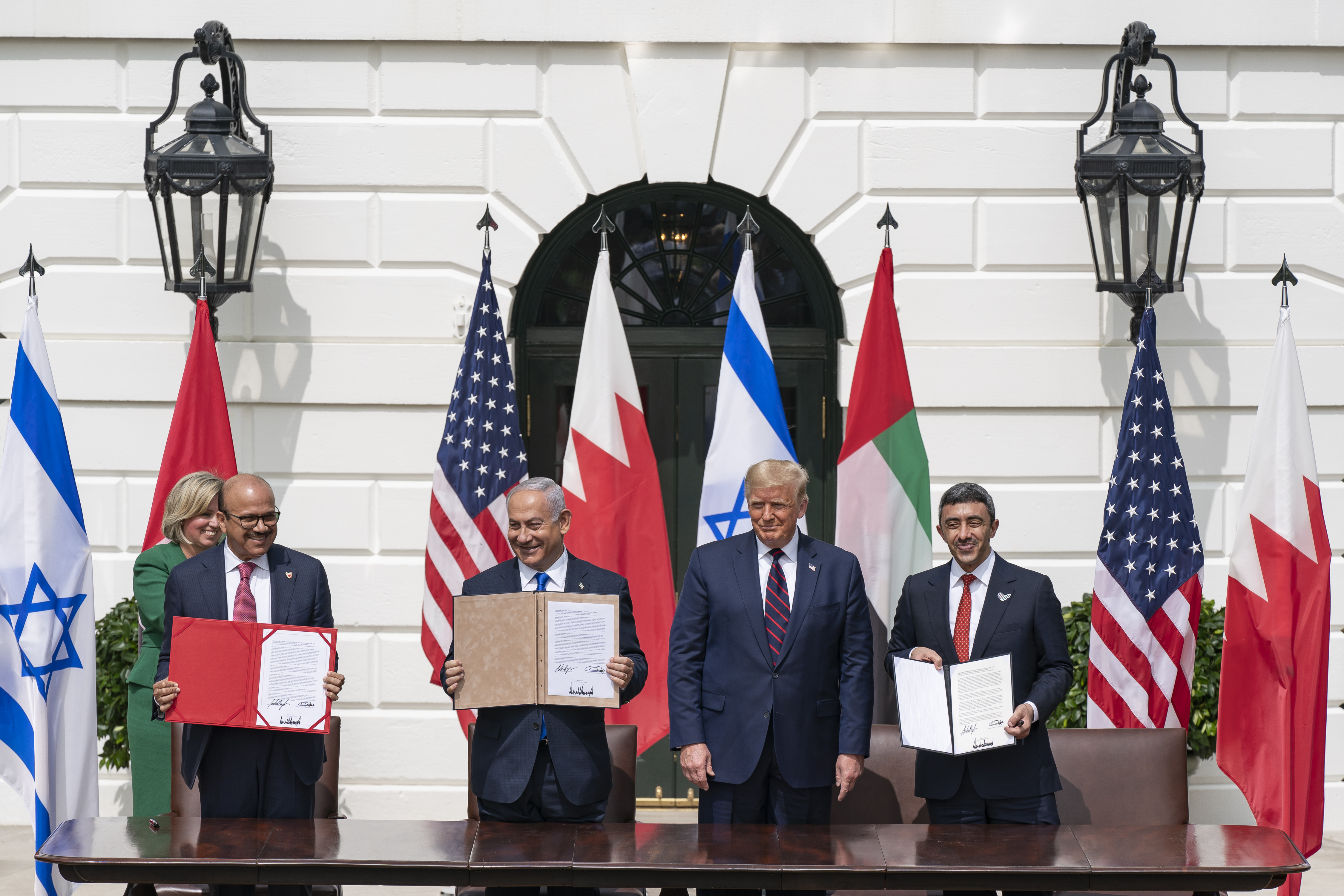 President Donald J. Trump, Minister of Foreign Affairs of Bahrain Dr. Abdullatif bin Rashid Al-Zayani,
Israeli Prime Minister Benjamin Netanyahu and Minister of Foreign Affairs for the United Arab Emirates Abdullah bin Zayed Al Nahyani
sign the Abraham Accords Tuesday, Sept. 15, 2020, on the South Lawn of the White House.
In May 2021, Jared Kushner and Avi Berkowitz, two men intimately involved in the negotiations during the Trump administration, founded the Abraham Accords Institute for Peace along with media mogul Haim Saban, Israeli Foreign Minister Gabi Ashkenazi, and the ambassadors of Bahrain and the United Arab Emirates to Washington. Rob Greenway, the senior Middle East official on Trump's National Security Council, will be the executive director. The bipartisan institute's goal is to promote trade, tourism, and people-to-people exchanges between Israel and the Arab countries.
On October 12, 2021, the Knesset's Abraham Accords Caucus was announced with the goal of furthering the progress made through the U.S.-brokered normalization agreements between Israel and the United Arab Emirates, Bahrain, Sudan, and Morocco. The caucus is co-chaired by Likud Knesset member Ofir Akunis and Ruth Wasserman Lande from the Blue and White Party.
Two days later, in a meeting between Secretary of State Antony Blinken, Israeli Foreign Minister and Alternate Prime Minister Yair Lapid, and UAE Foreign Minister Sheikh Abdullah bin Zayed Al Nahyan, the leaders decided to launch two trilateral working groups: one on religious coexistence and the other on water and energy.
The working group on religious coexistence will seek to advance interfaith and intercultural dialogue and combat religious intolerance and hate, including through collaboration between religious and spiritual leaders, scholars, and their respective governments. The second working group will address water management and energy issues to accelerate the adoption of clean energy as part of growing regional cooperation to tackle the climate crisis.
In October 2021, U.S. National Security Adviser Jake Sullivan reportedly discussed the possibility of Saudi Arabia joining the Abraham Accords during a meeting with Saudi Crown Prince Mohammed bin Salman. The Saudis said a number of steps would have to be taken first, including improving U.S.-Saudi bilateral relations. Previously, the Saudis had said progress would have to first be made toward the creation of a Palestinian state. 
The same report said the United States has been in touch with other countries regarding the possibility of normalizing relations with Israel.
On January 31, 2023, the United States announced that cybersecurity collaboration between Israel, the United Arab Emirates, and the United States was being expanded to include Bahrain and Morocco. Department of Homeland Security Undersecretary for Strategy, Policy and Plans Rob Silvers said, "We'll be meeting as a group to chart out how we can deepen our work on cyberdefense...Our countries face common cyber challenges — obviously, we all face cybercrime, ransomware, and so forth." He added, "This is a piece of diplomatic history, a piece of cybersecurity history and a wonderful opportunity to deepen security partnerships." 
Silvers told the Washington Post, the existing Israel-UAE-U.S. cyber collaboration allowed the United States to obtain "actionable and relevant threat intelligence...regarding shared cyberthreats and vulnerabilities, including information about specific cyber activity that targets critical infrastructure." 
---
Sources: Josh Hasten, "Knesset launches Abraham Accords Caucus on anniversary of normalization agreement," JNS, (October 12, 202.
Secretary Blinken's Meeting with Israeli Foreign Minister and Alternate Prime Minister Yair Lapid and UAE Foreign Minister Sheikh Abdullah bin Zayed, U.S. Department of State, (October 14, 2021).
"Report: Biden's top advisor discussed Saudi-Israel normalization with MBS," Haaretz, (October 20, 2021).
Tim Starks and Ellen Nakashima, "The Abraham Accords expand with cybersecurity collaboration," Washington Post, (January 31, 2023).
Photo: Official White House Photo by Shealah Craighead - Public Domain via Wikimedia.