National Parks in Israel: Coral Beach Nature Reserve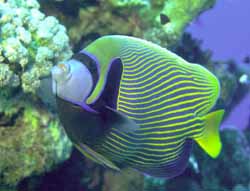 At the Coral Beach Nature Reserve on the Red Sea south of Eilat, the moment you put your head in the water (with a diving mask, of course) you are captivated by the magnificent scene. The reserve offers a spectacular combination of strange and beautiful corals that create colorful underwater 'gardens' navigated by a variety of wildly-hued tropical fish, including butterfly fish, parrot fish, Julie fish, nocturnal fish and many other species, along with sea lilies, giant shells and much more.

The heart of the reserve is a coral reef some 1,200 meters long parallel to the beach. It is one of the most 'densely populated' coral reefs in the world and the only one in Israel. A coral reef is a complex and delicate ecosystem, all of whose components are interdependent and connected in terms of metabolism and energy with their environment. Damage to even one individual in the system can cause a chain reaction that can adversely affect many organisms on the reef and marine or beach pollution can cause an ecological disaster. Great care is very important to preventing such damage.
Visitor numbers are managed by the reserve staff to allow visitors and divers to observe life on the coral reef. Guided snorkeling visits for groups of 30 people and above are available by advance reservation.
Coral World: The Underwater Observatory Marine Park, Eilat
The first Underwater Observatory Marine Park of its kind in the world was established by Morris Kahn together with Moriah Hotel Chain and Ampal Corporation, under guidance of reef biologist David Fridman. The Goal: to open a window onto the Red Sea, bringing visitors closer to the enchanted underwater world! The park is owned by Coral World, an international company which owns additional marine parks throughout the world.
Timeline
| | |
| --- | --- |
| 1974 | First Underwater Observatory established |
| 1975 | In April the Underwater Marine Park opened its doors to the public |
| 1982 | Shark, Sea Turtle and Ray pools, and giant coral reef aquarium – added to Park |
| 1985 | Additional aquariums and exhibits of exotic fish added |
| 1991 | Additional Underwater Observatory  built and connected  to existing one |
| 1991 | Arrival of "Jacqueline", the Yellow Submarine |
| 1995 | Shark and Sea Turtle pools redesigned and enlarged |
| 1997 | Oceanarium giant simulator opened |
| 1999 | "Coral 2000" glass sightseeing boat added to the Park |
| 1999 | Access to the Park via the sea is enabled by sailing aboard "The Coral Pearl" |
| 2002 | Amazon Exhibit opened |
The Underwater Observatory Marine Park offers visitors an experience to delight the senses and a rare chance to encounter the wonders of the Red Sea. Visitors can observe feedings, join in many activities, experience the Oceanarium, cruise in the glass boat, dine in restaurants, purchase pearls, jewelry and souvenirs, and more. In addition the Park serves as an information and research center for students and scientists from all over the world. The Underwater Observatory Marine Park has undertaken coral reef conservation projects, as well as increasing public awareness about coral reef and marine life preservation.  
Contact Information
Address: The Underwater Observatory Marine Park
P.O. Box 829, Eilat 88000, Israel
Website: http://www.coralworld.com/eilat/eng/

Tel:  972-8-6364200  
Fax: 972-8-6373193

Hours of Operation
Open Daily: 8:30 A.M. - 5 P.M.
Friday & Holiday's eve: 8:30 A.M. - 4 P.M.
---
Sources: Israel Nature and Parks Authority