Fact Sheets: Sderot - The Human Dimension
(Updated May 2008)
Israel evacuated the Gaza Strip in 2005 with the expectation that the Palestinians would take the opportunity to build the infrastructure for a state and demonstrate their willingness to coexist with Israel. Instead of peace, however, Israel traded land for terror. Israeli citizens in southern Israel have been targets of a steady barrage of more than 2,400 rockets. The media has largely trivialized these attacks, giving the false impression that these are little more than firecrackers that pose no threat to Israeli lives rather than lethal, high-explosive rockets meant to terrorize and kill innocent Israeli men, women and children.
By focusing on the quantity of rockets, the media also minimizes the impact on the communities under siege and the lives of individual Israelis who suffer from each attack as well as the cumulative stress of the ongoing bombardment. The human cost of these unprovoked attacks can be seen in the hospitals and cemeteries where the dead and injured lay. The psychological harm, however, is not visible. The Israeli Center for Victims of Terror and War found that 28 percent of adults and 30 percent of children in the town of Sderot, the principal target of Palestinian terror attacks, have post-traumatic stress disorder.
These are some of the stories of the people affected by the terror war in Sderot and the surrounding communities:
Palestinian militants in the Gaza Strip fired 21 Qassam rockets into the western Negev on May 10, 2008, causing a few minor injuries as well as some damage to buildings, including a Sderot synagogue and a structure near Sapir College. Other rockets landed in open areas, with one setting a Sderot field ablaze. Earlier on May 9, an Israeli was killed in a mortar attack, named Jimmy Kedoshim, 48, as he was tending the garden of his home on Kibbutz Kfar Aza. There is no early warning system for mortar shells in the Negev, like the Color Red rocket warning system, and with the exception of the hitchhiking station and some of the buildings for children, the kibbutz buildings are not reinforced. "Since there's no Color Red system against the mortars it's hard to know when an attack is over," says one kibbutz member. "Everyone is anxious all the time and every loud noise alerts everyone." (Haaretz, May 11, 2008)

The western Negev suffered yet another day of Kassam rocket attacks on April 28, 2008, with at least ten rocket strikes registered in the early morning. Four of the rockets were launched in a simultaneous barrage at 11:00 a.m., with two landing in the Sderot city limits. One of the rockets scored a direct hit on a house, while the other landed next to a school. Magen David Adom paramedics treated a number of people for shock following the strikes. (The Jerusalem Post, April 28, 2008)

A four-year-old boy, Amir Arad, was lightly injured by shrapnel after a Qassam rocket landed in Kibbutz Gevim in the western Negev. Ilan Arad, the boy's father, recalled the attack: "We had just returned from the north and the boy was sitting at the back seat of the car. As we arrived at the community we heard the Color Red (alert system), and the Qassam landed in our backyard. The shrapnel infiltrated the car near the fuel tank and hit the boy's shoulder. He was evacuated to the hospital for medical treatment." His mother Lior said that the family decided to leave the community after a Qassam rocket landed in the area the week before. "We went to visit my parents in Rosh Hanikra and stayed there for a few days. As we entered the kibbutz, we heard the Color Red. Amir was still buckled up, and then we heard the explosion and the shrapnel flying. My daughter screamed that Amir had blood coming out of his shoulder. Magen David Adom crews began tending to him and evacuated him to the Barzilai Medical Center in Ashkelon." The family's car and a nearby building sustained light damage in the rocket attack. The rocket was fired minutes after another Qassam landed in an open area within the Sdot Negev Regional Council. There were no reports of injuries or damage in the earlier incident. (Ynet, April 21, 2008)

Shortly after a student at Sapir College in Sderot was killed and one other person was wounded by shrapnel in a Kassam rocket attack on February 27, 2008, a barrage of four rockets struck the

Ashkelon

area. The Sapir College casualty was reported to be a 30-year-old male student. He was critically wounded when a rocket hit a parking lot on the western Negev campus, and died shortly after being evacuated to Barzilai Hospital in Ashkelon. At least five other people were reported in shock after the attack. David Barnan, head of the college's students association, said he ran to the scene of the explosion and was shocked. "I can't put it into words," he told Army Radio. "This is our country," he said. "We will stay alive, we continue our studies, we will continue to do all the things we need to do, and speaking for myself, I can say we're not afraid of anyone." At least 40 Kassam rockets were launched at southern Israel on the afternoon and early evening of February 27, 2008 from the Gaza Strip. (

The Jerusalem Post

, February 27, 2008)

A 10-year-old boy sustained serious injuries to his arm when a Qassam fired by Palestinians in north Gaza landed near a school in Sderot on February 25, 2008. Yossi Haimov returned from school on Monday afternoon together with his eight-year-old sister, Maria. Maria later said that after returning from school, she and her brother left their bags in the house and went to visit a friend and later went out to the backyard. "We heard the Color Red (alert system), quickly ran and hid, there was a small 'boom,' and then when we came out there was once again a strong explosion. We hid near the wall and then the shrapnel hit Yossi in the shoulder and his entire shoulder was filled with blood," she recalled. "We both quickly ran to a grocery store, screaming. The grocery store owner quickly called for an ambulance and they took Yossi to the hospital," Maria said. "Yossi didn't cry, he only kept telling me that it hurts. I don't remember much from the injury. All I remember is that there was a lot of smoke, and when I saw Yossi's shoulder with blood I could see that his entire sholder was broken." Paramedics dispatched to the scene managed to stop the bleeding and evacuate the boy to the Barzilai Medical Center in

Ashkelon

. A number of other residents were treated for shock. The hospital's deputy director-general, Dr. Ron Lobel, informed Yossi's parentsthat the doctors had managed to save their son's arm which was badly injured in the rocket attack. (Ynet, February 25, 2008)
Osher Twito, unconscious, at Barzilai Hospital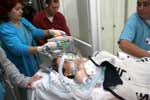 Osher Twito, 8, and his brother Rami,19, were seriously wounded when a rocket fired from northern Gaza on February 8, 2008, landed a few feet from where the boys were standing. One man said that he and his friends ran to the attack site and saw the boys lying on the ground and bleeding, with Osher screaming, "Save me, save me!" Magen David Adom teams rushed Rami and Osher to Ashkelon's Barzilai Hospital where doctors operated to save the life of the younger boy, who suffered severe shrapnel wounds to both of his legs. "When Osher arrived here, his leg was completely crushed," said Dr. Emil Chai. "It was clear that we would probably have to amputate it. He underwent surgery during the night and we are trying to keep the second leg, but it's also in bad condition. Apart from that, he has a hole in his chest and his lungs are injured....His brother Rami was also operated on tonight. Both his legs are plastered now and we presume that he will be transferred to the orthopedic ward in the coming hours." The brothers' mother and 15-year-old brother were also hospitalized at Barzilai, where they were treated for shock (The Jerusalem Post; Ynet, February 10, 2008).
Two houses in Sderot were directly hit by Kassam rockets late on February 8, 2008, causing several people to suffer from shock. One man suffered from chest pains and was evacuated to the hospital. Two other Sderot residents suffered from light injuries after falling down while looking for shelter from the rockets (The Jerusalem Post, February 8, 2008).

On February 7, 2008, some 20 Kassam rockets pounded the western Negev. One rocket struck a direct hit on a garage adjacent to a home in Sderot, setting it ablaze and sending three people into shock

Tzahar Shitreet, a deaf child, did not hear the rocket that wounded him.

Two girls, Tchelet, 2, and Yardena, 12, were injured from shrapnel February 6, 2008, when a rocket fired from northern Gaza landed near a kindergarten in their kibbutz. Tchelet sustained shrapnel injuries to her leg, and her mother suffered from shock. Yardena was injured in the shoulder. Tchelet's mother had just picked up her infant daughter from the children's quarters in the kibbutz when the Qassam landed. "We were walking on the road with the playground to our left; it's usually packed with kids at this time of day," she recounted. "Suddenly I heard a whistling sound followed by an explosion and fire. I was thrown back by the force of the blast. Tchelet was also thrown back and I heard her call for my help. I picked her up and noticed that she was injured in the leg; her shoe was filled with blood" (Ynet, February 7, 2008).
Fourteen-year-old Hanny Moreno was in the house with her grandmother and mother when a rocket hit their house on February 5, 2008. "We heard the Color Red alert system," she recounted. "We ran to where my grandmother said was the most protected place, as there is no protection in the house. When the alert ended we came out and then there was an explosion. I flew against the wall and felt the roof collapsing over me. If I was a few meters away from the place where I was standing, I would have sustained more serious wounds. I thank God I was saved. Half a year ago, as I was making my way to this house, a Qassam rocket landed right next to me. A miracle saved me then too, because I managed to run and find shelter in time" (Ynet, February 5, 2008).
Moshe Yifrach's in-laws live in one of the houses hit by a Qassam on February 5, 2008. "I still can't believe that people came out of this house alive," he said. "What happened here was simply a miracle. This house is full of people every day. My wife is usually here at these hours. Today, by chance, only my mother-in-law was here with her daughter and 14-year-old granddaughter. They don't have a protected space and the entire house was simply destroyed. The granddaughter was hurt by shrapnel, and my mother-in-law and her daughter were lightly injured" (Ynet, February 5, 2008).
A Sderot home that took a direct hit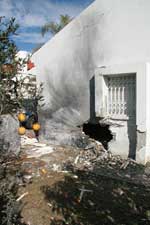 At least four people were wounded, including a 5-year-old girl, in a rocket barrage on Sderot on January 15, 2008. At least 18 Qassams were fired at Sderot during the afternoon, with four rockets landing in town. The rocket fire started at around 4:15 PM, with one Qassm hitting a poultry processing plant where Yakov Yakobov was killed in November 2006 (Ynet, January 15, 2008).
On January 3, 2008, a Grad Katyusha missile fired from northern Gaza landed near a tennis court in a southern Ashkelon neighborhood. At least 10 people sustained shrapnel wounds. Lior Ben Schimmel, 5, was at her neighbor's house playing with their children when the attack occurred. The girl's father, Yaron, said, "I heard an explosion and saw a Qassam had hit the neighbor's house. I ran to the house and saw my daughter drenched in blood." He said his daughter had already been given psychological help to cope with the stress of living under constant attack (Israeli Ministry of Foreign Affairs, February 1, 2008).
About 20 Qassam rockets struck the western Negev on December 20, 2007, just before the launching of the post-Annapolis bilateral talks. Eight people were wounded. A Qassam rocket fired from Gaza exploded outside an elementary school in Sderot. Eighteen people were treated for trauma, including 10 children (Israeli Ministry of Foreign Affairs, February 1, 2008).
A Qassam rocket scored a direct hit on a home in Sderot on December 13, 2007, wounding the mother of the family who was hurled against the wall by the blast. The house suffered extensive damage.
Oshri Oz, 36, was killed and several Israelis wounded in a Qassam rocket attack on May 27, 2007, in Sderot. Oz, the married father of a two-year-old girl, came to Sderot to fix computers when his car was hit (InfoLive.tv, May 27, 2007).
Shirel Feldman, 32, was killed and another man was injured on May 21, 2007, when a Qassam rocket hit a car at a commercial center in Sderot (Ynet, May 22, 2007 and InfoLife.tv, May 27, 2007).
On November 15, 2006, Faina (Fatima) Slutzker, 57, was killed by a rocket that hit a busy street in Sderot. The wounded included one of Defense Minister Amir Peretz's guards, Maor Peretz, and a 17-year-old boy. Six others suffered from shock. The bodyguard lost both his legs from shrapnel (Haaretz, November 16, 2006; Ynet, November 17, 2006).
It is difficult to imagine another nation showing the patience and restraint that Israel has toward an enemy that has declared its desire to destroy it and carried on such a murderous campaign against its citizens. Imagine what your government would do if a neighbor began firing rockets into your hometown and forced you to develop a warning system that offered only a few minutes to find shelter in an attack. How would you carry on your daily life when at any time a rocket could fall from the sky and destroy everything around you? What could you do to protect your children, knowing that the enemy does not hesitate to target schools and playgrounds? Would you abandon your home or would you demand that your government make the deadly rockets stop?
Unfortunately, Israel has no good options for stopping the terror onslaught and its leaders continue to use a variety of tactics to reduce the threat. Meanwhile, the Palestinian Authority leadership, which says it wants peace, has done nothing to prevent the terror. This means that innocent Israelis who live nowhere near the disputed territories remain in danger.
Photos courtesy of The Israel Project. Top photo Lior Ben Schimmel, 5, who was seriously wounded when a rocket directly hit her neighbor's home, where she was playing on January 16, 2008.
---