Archaeological Discoveries: Mosaics Uncovered at 4th Century Synagogue in Huqoq
In July 2012, a monumental synagogue building dating to the Late Roman period (ca. 4th-5th centuries C.E.) was discovered in archaeological excavations at Huqoq in Israel's Galilee.  During continued excavations, well-preserved mosaics featuring biblical scenes, elephants, donkeys and the Biblical character Samson were exposed at the synagogue.
Huqoq is an ancient Jewish village located approximately two to three miles west of Capernaum and Migdal (Magdala). During the inital excavation period in July 2012, portions of a stunning mosaic floor decorating the interior of the synagogue building were revealed. The mosaic, which is made of tiny colored stone cubes of the highest quality, includes a scene likely depicting Samson placing torches between the tails of foxes (Judges 15). In another part of the mosaic, two human faces flank a circular medallion with a Hebrew inscription that refers to rewards for those who perform good deeds.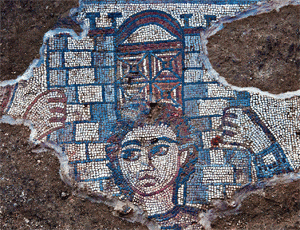 "This discovery is significant because only a small number of ancient (Late Roman) synagogue buildings are decorated with mosaics showing biblical scenes, and only two others have scenes with Samson (one is at another site just a couple of miles from Huqoq)," said Jodi Magness, one of the excavation leaders. "Our mosaics are also important because of their high artistic quality and the tiny size of the mosaic cubes. This, together with the monumental size of the stones used to construct the synagogue's walls, suggest a high level of prosperity in this village, as the building clearly was very costly."
During continued excavations in Summer 2013, Magness' team uncovered a second Samson mosaic which was much better preserved. The discovery of this second mosaic has led Magness to wonder if her team might have stumbled upon Israel's first known Samson "cycle" (or grouping of several artworks featuring the same character) from around the fifth century. The excavations also uncovered another mosaic feautring colorful elephants and humans that appears to be apocryphal, or unrelated to the Bible. 
Archaeological excavations continued at the site and experts are still wowed by the discoveries. During the eighth season, in 2018, large mosaics were uncovered depicting two men carrying grapes and a young boy leading an animal inscribed with the words a small child shall lead them. University of North Carolina archaeologist Jodi Magness, who played a major role in the excavation, observed that the synagogue keeps enriching our understanding of the Judaism of the period by producing mosaics that there's just nothing like.  
---
Sources: Israel Antiquities Authority;
Meredith Bennett-Smith, Ancient Samson Mosaic Uncovered In Israeli Synagogue; Beautiful Art Fascinates Scholars Huffington Post, (August 31, 2013);
Amanda Borschel-Dan, Mind-blowing 1,600-year-old biblical mosaics paint new picture of Galilean life, Times of Israel, (July 9, 2018).