Rod J. Rosenstein
(1965 - )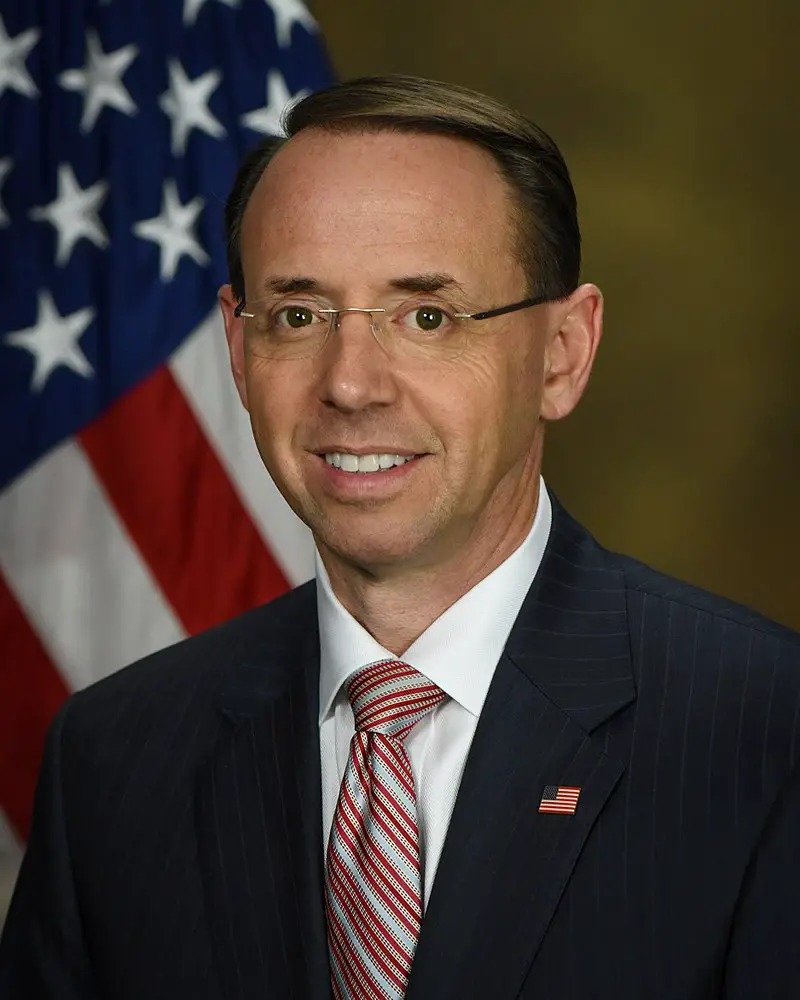 Rod Jay Rosenstein was born on January 13, 1965, in in Philadelphia to Robert, who ran a small business, and Gerri Rosenstein, a bookkeeper and school board president. He grew up in Lower Moreland Township, Pennsylvania.
Mr. Rosenstein graduated from the Wharton School of the University of Pennsylvania, with a B.S. in Economics, summa cum laude. He earned his J.D. degree cum laude from Harvard Law School, where he was an editor of the Harvard Law Review. He then served as a law clerk to Judge Douglas H. Ginsburg of the U.S. Court of Appeals for the District of Columbia Circuit.
After his clerkship, Mr. Rosenstein joined the U.S. Department of Justice through the Attorney General's Honors Program. From 1990 to 1993, he prosecuted public corruption cases as a trial attorney with the Public Integrity Section of the Criminal Division, then led by Assistant Attorney General Robert S. Mueller, III.
During the Clinton Administration, Mr. Rosenstein served as Counsel to Deputy Attorney General Philip B. Heymann (1993 - 1994) and Special Assistant to Criminal Division Assistant Attorney General Jo Ann Harris (1994 - 1995). As an Associate Independent Counsel from 1995 to 1997, he was co-counsel in the trial of three defendants who were convicted of fraud, and he supervised the investigation that found no basis for criminal prosecution of White House officials who had obtained FBI background reports.
United States Attorney Lynne A. Battaglia hired Mr. Rosenstein as an Assistant U.S. Attorney in 1997. He litigated a wide range of cases, coordinated the credit card fraud and international assistance programs and supervised the law student intern program. He also briefed and argued cases in the U.S. Court of Appeals for the Fourth Circuit.
From 2001 to 2005, Mr. Rosenstein served as Principal Deputy Assistant Attorney General for the Tax Division of the U.S. Department of Justice. He coordinated the tax enforcement activities of the Tax Division, the U.S. Attorneys' Offices and the IRS, and he supervised 90 attorneys and 30 support employees. He also oversaw civil litigation and served as the acting head of the Tax Division when Assistant Attorney General Eileen J. O'Connor was unavailable, and he personally briefed and argued civil appeals in several federal appellate courts.
Mr. Rosenstein was sworn in as U.S. Attorney on July 12, 2005, after the United States Senate unanimously confirmed his nomination.
As United States Attorney, he oversaw federal civil and criminal litigation and developed and implemented federal law enforcement strategies in Maryland. He also litigated cases in the U.S. District Court and in the U.S. Court of Appeals for the Fourth Circuit.
Mr. Rosenstein served on several subcommittees of the Attorney General's Advisory Committee of U.S. Attorneys, which evaluates and recommends policies for the Department of Justice, and as vice-chair of the Subcommittee on Cybercrime and Intellectual Property Enforcement.
Mr. Rosenstein was the Core City U.S. Attorney for the Mid-Atlantic Region of the Organized Crime Drug Enforcement Task Force and serves on the Washington/Baltimore High Intensity Drug Trafficking Area Executive Board, which he chaired from 2010 to 2011. He also was a member of the Baltimore City Criminal Justice Coordinating Council.
Mr. Rosenstein is an active member of the Maryland and District of Columbia bars and of numerous federal court bars. He belongs to the Maryland, Federal and American Bar Associations. He is a Fellow of the American Bar Foundation, a member of the Lawyers' Round Table of Baltimore and the Serjeants Inn of Baltimore, and a barrister of the Edward Bennett Williams Inn of Court .
President Donald Trump nominated Rosenstein to serve as Deputy Attorney General for the United States Department of Justice on February 1, 2017. Rosenstein was confirmed by the U.S. Senate on April 25, 2017.
At the time of his confirmation, he was the nation's longest-serving U.S. Attorney. Rosenstein had also been nominated to the United States Court of Appeals for the Fourth Circuit in 2007, but his nomination was never considered by the U.S. Senate.
In May 2017, he authored a memo that President Trump cited as the basis for his decision to dismiss FBI Director James Comey. Following the recusal of Attorney General Jeff Sessions and Comey's dismissal, Rosenstein appointed Robert Mueller as special counsel to investigate alleged ties between the Trump campaign and Russia during the 2016 elections and related matters. On November 7, 2018, Trump transferred command of this oversight to acting US Attorney General Matthew Whitaker.
Rosenstein has served as an adjunct professor, teaching classes on federal criminal prosecution at the University of Maryland School of Law and trial advocacy at the University of Baltimore School of Law.
He was a member of Washington D.C.'s Temple Sinai, a Reform Jewish congregation, from 2008 to 2014. According to a questionnaire that Rosenstein completed ahead of a hearing with the Senate Judiciary Committee, he was a member of a Jewish Community Center's sports league from 1993 to 2012. Rosenstein served on the board of directors of the United States Holocaust Memorial Museum from 2001 to 2011.
Rosenstein lives in Bethesda, Maryland with his wife Lisa Barsoomian. They have two daughters.
---
Sources: Offices of the United States Attorneys;
United States Department of Justice;
Wikipedia.