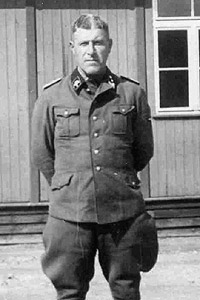 Hans Hüttig was born on April 5, 1894, in Dresden, Germany. The son of a carpenter, Hüttig's father would eventually open a shop selling photographic equipment and this became the family trade, with Hüttig's brother a founder of Zeiss Ikon.
After being sent to a boarding school in south Germany he attempted to enter the army in 1911 but failed the exam and returned home to work as a salesman in his father's shop. In 1914, he left went to work for an import-export company in German East Africa.
Following the outbreak of World War I, Hüttig enlisted in the German Imperial Army, seeing action in the East African Campaign and eventually rising to the rank of Feldwebel. Wounded in December 1917, the military hospital where he was being treated was captured by the British Army. Thereafter, Hüttig was sent to a POW camp in Cairo where he was held for two years.
He returned to Germany and his father's shop in March 1920. Hüttig joined the right-wing Stahlhelm, Bund der Frontsoldaten in 1925 although he claimed that this was largely to feel a sense of belonging rather than because of any deep political convictions.
After running his own photography shop (which closed in 1930), Hüttig enlisted in the SS in March 1932 at age 37 as an unpaid volunteer and later joined the Nazi Party.
Following the Nazi seizure of national power in 1933, Hüttig was offered a position with the SS-Totenkopfverbände and spent the next six years touring concentration camps and being trained for a career working in them. His first assignment was to serve as deputy to Karl Otto Koch, commandant of Buchenwald where he was praised by his superiors and later denounced by survivors for his cruelty.
Hüttig later worked at both Sachsenhausen and Flossenbürg where he gained a reputation as a troubleshooter. He was subsequently given the task of supervising the construction of a new facility at Natzweiler-Struthof in Alsace. While in occupied Norway, he was responsible for security at the Grini concentration camp and served as SS and Police Leader for the country.
Following the removal and arrest of Adam Grünewald, Hüttig was made commandant of the Vught concentration camp in February 1944.
After the war Hüttig was captured by the Allies and tried by a French military court. He was sentenced to death on July 2, 1954, but was released two years alter after serving 11 years in prison.
He died on February 23, 1980, in Wachenheim, Germany.
---
Source: "Hans Hüttig," Wikipedia.
Photo: Philips-kommando.nl.