Gibraltar Virtual Jewish History Tour
Gibraltar, a British territory located at the mouth of the Mediterannean Sea between Spain and Morocco, has a Jewish history that can be traced back to the mid-14th century. Today, approximately 600 Jews still live on the island.
Early Jewish History
Modern Community
Notable Jewish Sites
Early Jewish History
Jews have lived in Gibraltar at least since 1356, during the 14th century. Historical records reveal that the community issued an appeal for help (1356) in ransoming a group of Jews taken captive by pirates. Another extant document indicates that a number of secret Jews, fleeing persecution in Andalusia, sought permission to settle on Gibraltar in 1473. 
After the expulsion of the Jews from Spain in 1492, many Jews passed through Gibraltar on their way to North Africa. In 1713, Spain signed the Treaty of Utrecht, which rendered the fortress a British dependency. The Spaniards inserted a clause in the Treaty reading: "Her Britannic Majesty, at the request of the Catholic King, does consent and agree that no leave shall be given, under any pretext whatsoever, either to Jews or Moors to reside or have their dwellings in the said town of Gibraltar." However, in 1729, English authorities signed an agreement with the sultan of Morocco permitting his Jewish subjects to return to Gibraltar to trade, and eventually, the community was reestablished. "The subjects of the Emperor of Fez and Morocco, whether Moors or Jews, residing in the dominion of the King of Great Britain, shall entirely enjoy the same privileges that are granted to the English residing in Barbary."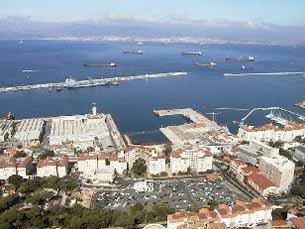 In 1749, Jews were legally allowed to return to the protectorate, and the population numbered about 600, almost one-third of the total number of civilians. By 1805, Jews comprised half of Gibraltar's population, and in 1843, the Ladino newspaper Cronica Israelitica was established. In the middle of the 19th century, the Jewish community reached a peak; there were 1,533 Jews in Gibraltar in 1878, and they dominated most of the retail trade.
Today's Jewish Community
After the 19th century, however, the Jewish community began to dwindle with many Jews never returning after they were evacuated to British territories during World War II. After the war, only a small number of Jews remained in Gibraltar.
Today, the Jewish community of Gibraltar is again growing, numbering now 750 (about 2% of the total population), and it has seen a near 25% increase between 2008 and 2011. Almost the entire community is Sephardim, Jews of Spanish descent, who originally came from the settlers of Tetouan on the northern coast of Morocco.
The sense of Jewish identity in the community remains strong to this day and Jewish education has become a strong suit. There is a Talmud Torah, which educates children through eighth grade, separate boys and girls high schools, as well as a small kolel (post-high school yeshiva). In addition, the community maintains four synagogues and a mikvah.
Realistically, the community foundation could support a much larger number of people. "We've got an infrastructure that could cope with a community of 2,000, and we've only got 700," said Mark Benady, a native Gibraltarian and vice president of the territory's Jewish community, when interviewed in late 2011.
Shabbat, too, is observed in the city center, with all Jewish-owned shops closed to patrons. After Friday night services in one of the four synagogues, Main Street becomes a sort of promenade where friends and relatives can greet each other before heading off to a meal. "The social life very much revolves around Shabbat," Jo Jacobs Abergel, an English immigrant, said. "It's very different from my life in England, completely. In the UK, you could be Jewish culturally. There were dances, there were fundraising events, there was loads of stuff you could get involved in whatever level you were at."
A strong support for Israel also remains evident in the community and it is believed that a proportionally large number of Israeli expats live in the city though stay away from the Jewish community.
Notable Jewish Sites
Four streets in downtown Gibraltar pay homage to promiment Jews: Serfaty's Passage, Abecasis's Passage, Benoliel's Passage, and Benzimra's Alley.
The synagogues are also rather easy to locate as each one is marked with a large Star of David on Gibraltar's Tourist Board map in the city center. At 20 Parliament Lane, visitors can find the Abudarham Synagogue, a small prayer house with dark wooden pews facing a bimah (a raised platform where the Torah is read).
At 91 Irish Town, tourists will come across another house of worship, Etz Chayim Synagogue. Also called Esnoga Chica (Little Synaogue), the congregation was founded in 1759.
At 65 Line Wall Road, Nefutsot Yehuda Synagogue is one of Gibraltar's most lavish and ornate synagogues. It features ornately patterned walls and ceilings and a beige, Dutch-style facade, and according to a plague at the entrance, a congregation has existed on the sit of the Nefutsot Yehuda Synagogue since the 18th century. Today's congregation was founded in 1800 by Dutch merchants and has become to be known as the Flemish Synagogue.
Arab Fortress near Rock of Gibraltar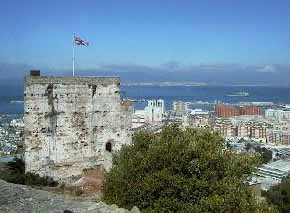 At 47/49 Engineer's Lane, the Shaar Hashamayim Synagogue sits on this site since 1912, and features colorful tiles, wrought-iron balustrades, dark wooden furnishings, and marble floors.
Other areas of interest include City Hall, which was once the mansion of wealty Jewish merchant Aaron Nunez Cardozo; El Boulevard Hebreo (Jews' Boulevard) opposite Nefutsot Yehuda Synagogue and adjacent to the Derech Eretz Talmud Torah yeshiva (10 Bomb House Lane); Jews' Gate near the old Jewish cemetary not far from St. Michael's Cave, which is on the southern edge of The Upper Rock Nature Reserve, Europa Lane leads into Jews' Gate; and the new Jewish cemetary, where some Jewish heros of World War I and World War II are buried, located opposite No. 9 Devil's Tower Road.
Below are excerpts from a delightful article by Manfred R. Lehman about his experience with the Jews of Gibraltar.
When I first came to Gibraltar I was immensely impressed with the piety and enthusiasm of its Jews. First, Sir Joshua Hassan, the Mayor—and later Chief Minister for more than 30 years—was an honored member of the Jewish community. Also, many of Gibraltar's Jews have served as Cabinet Ministers, and several have been appointed as diplomatic representatives of various foreign rulers as well.

All Jewish stores, without exception, are closed along the main street on Shabbat-probably a record in our world today. A Shabbat in Gibraltar is therefore a very pleasant experience. After the Jews attend services in any of the four beautiful synagogues, and take their Shabbat meals, they are seen promenading along the narrow streets of Gibraltar, in a serene Shabbat atmosphere. I had the good fortune of being the guest of the Levy family on my first visit to Gibraltar. One of the members of the family was a high-ranking British officer in the garrison on the Rock. On Friday night I observed the entire family singing the hauntingly beautiful Sephardic song "Bendigamos," sung in Sephardic congregations around the world except in New York it is only sung once, on Sukkot, in the synagogue.
Kosher Restaurants:
Verdi Verdi Kosher Coffeehouse
Casemates Square (entrance to Main Street)
Solly's Salt Beef Parlour and Delicatessen (Glatt Kosher)
8 Cannon Lane (just off Main Street)
350-78-511
Amar's Kosher Bakery (est. 1820)
47 Line Wall Road
350-73-516
---
Sources: Some of this material was originally published in Sparks! - an e-zine for Jewish families.
Hecht, Esther. Gibraltar. Hadassah Magazine, (November 2007).
Alex Weisler, Tiny Gibraltar, Outsized Jewish Infrastructure, JTA, (December 11, 2011)