Edgardo Mortara
(1851 - 1940)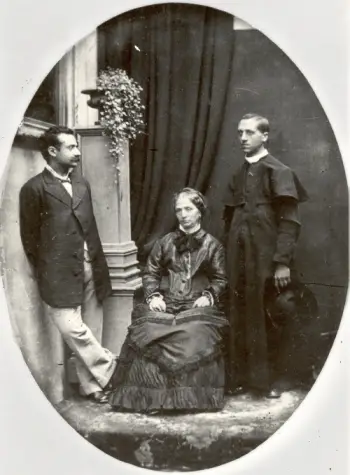 Father Pio Edgardo Mortara (right)
with his mother Marianna, c. 1878–1890
Edgardo Levi Mortara was born on August 27, 1851, in Bologna. A few months after Edgardo's birth, the Mortara family, who were Jewish, engaged a new servant, Anna "Nina" Morisi, an 18-year-old Catholic.
In October 1857, the inquisitor of Bologna, the Dominican friar Pier Gaetano Feletti, learned of rumors that a secret baptism had been administered to one of the city's Jewish children by a Catholic servant. If true, this would make the child a Catholic in the eyes of the Church.
The official Church position was that Catholics should not baptize Jewish children without the parents' consent, except if a child was on the brink of death, in which case the Church permitted baptism because the customary deferment to parental authority was outweighed by the importance of allowing the child's soul to be saved and go to Heaven.

The Kidnapping of Edgardo Mortara, painting by Moritz Daniel Oppenheim, 1862.
This representation departs significantly from the historical record of how Mortara was taken—no clergy were present, for example.
The servant identified in the rumors was Anna Morisi. Feletti questioned Morisi, who admitted that while she was employed by the Mortaras, their 6-year-old son Edgardo had fallen gravely sick while in her care, leading her to fear that he might die. She said that she had performed an emergency baptism herself.
Feletti arranged for the police to seize the child and take him to the House of Catechumens, a Church institution in Rome established for the conversion of Jews and Muslims. Initially, the Mortaras did not know where their son had been taken but, later, were permitted to visit him.
Edgardo's abduction set off a worldwide protest, but Pope Pius IX refused to have the child released. He received a delegation from Rome's Jewish community on February 2, 1859, during which he complained about the Jews "stirring up a storm all over Europe about this Mortara case."

Pope Piux IX
The pope's determination to keep Edgardo developed into a strong paternal attachment. According to Edgardo's memoirs, the pontiff regularly spent time with him. At one of their meetings, Pope Pius told Edgardo: "My son, you have cost me dearly, and I have suffered a great deal because of you." He then said to others present: "Both the powerful and the powerless tried to steal this boy from me, and accused me of being barbarous and pitiless. They cried for his parents, but they failed to recognize that I, too, am his father."
In early 1865, at the age of 13, Edgardo became a novice in the Canons Regular of the Lateran, adding the Pope's name to his own to become Pio Edgardo Mortara. He wrote repeatedly to his family, but received no reply until May 1867. His parents, who were now living in Florence, wrote that they still loved him, but saw nothing of their son in the letters they had received.
Ultimately, Edgardo Mortara became a monk, traveling through Europe and America, spending some of his time trying to convert Jews (including his family). When he returned to Italy periodically later in his life, he would call on his relatives.
He ultimately settled at the abbey of the Canons Regular at Bouhay in Liège, Belgium. Father Pio Edgardo Mortara resided at Bouhay for the rest of his life and died there on March 11, 1940, at the age of 88.
---
Sources: "Mortara case," Wikipedia.
David I. Kertzer, "The Pope, The Jews, And The Secrets In The Archives," The Atlantic, (August 27, 2020).
Photos: Mortara and mother – Public domain via Wikimedia Commons.
The Kidnapping of Edgardo Mortara, painting by Moritz Daniel Oppenheim, 1862. Moritz Daniel Oppenheim, Public domain via Wikimedia Commons.
Pope Pius IX depicted in Harper's Weekly in 1867 - Public domain via Wikimedia Commons.