Denmark Virtual Jewish History Tour
The Kingdom of Denmark, located in northwestern Europe, was the first of the Scandinavian countries to permit Jews to settle within its borders. Thousands of Danish Jews survived the Holocaust by escaping to Sweden. Today, the Jewish population of Denmark is approximately 6,400 people.
Early History
19th & 20th Century
Holocaust Era
Modern Community
Relations with Israel
Early History
Denmark was the first of the Scandinavian countries where Jews were permitted to settle. Jews were first invited by King Christian IV, who sent a message on November 22, 1622, to the leaders of the Sephardi community in Amsterdam and Hamburg inviting Sephardi Jews to settle in the recently established township of Gluckstadt. Some Jews accepted this invitation and began trading and manufacturing operations there. Jews were also active in Denmark in the seventeenth century as financiers and jewelers to the royal family and members of the Danish royalty. Benjamin Mussafia, author of the Talmudic dictionary Musaf Ha-Arukh, was appointed physician to the royal family in 1646. His son-in-law Gabriel Milan became governor of the Danish West Indies in 1684.
Jewish communities existed in Schleswig and Holstein, then under Danish rule, from the beginning of the seventeenth century. Around this time many German Jews wished to come to Denmark; however, they had to produce royal authorization before entering the country. Rabbis, teachers, and other community leaders were permitted to practice in Denmark with the permission of the leaders of the community.
Members of Sephardi families such as Abenzur, Franco, Granada, De Lima, Meldola, De Meza, Moresco and Texeira de Mattos continued to engage in financial operations in Denmark during the 17th and 18th centuries, but gradually lost their mercantile significance in the state economy and their predominance in the Jewish community.
In 1782, there were 1,830 Jews in Denmark; 1,503 in Copenhagen.
19th & 20th Century
The 19th century was a period of cultural, social and economic progress for Danish Jewry, though there was a spate of anti-Jewish polemics between 1813 and 1819.
Danish Jews were granted civic equality in 1814 and received full citizenship rights in 1849. The Jewish population increased steadily until the middle of the nineteenth century when there were approximately 4,200 Jews in Denmark. The population subsequently declined to 3,500 in 1901 due to intermarriage and a low birth rate. After the Kishinev pogrom of 1903, about 200 refugees came from Eastern Europe to permanently settle in Denmark. By 1921, the total Jewish population numbered 6,000.
The Zionist movement was introduced into Denmark in 1902 with the establishment of the Dansk Zionistforening. The World Zionist Congress moved its headquarters to Copenhagen for the duration of World War I. The Danmark Loge of B'nai B'rith was founded in 1912.
Jews in Denmark achieved great renown in all aspects of society. Some of the best known include the sculptor Kurt Harald Isenstein, the literary critic Georg Brandes, the botanist Nathanael Wallich, and the scientists Ludvig Levin Jacobson, Adolph Hannover, and Carl Julius Salomonsen. Jews were also very active in the government during the nineteenth century; Edvard Brandes served as minister of finance, Herman Trier was a member of parliament, and Georg Cohn was a state advisor on international law. Valuable contributions to science and learning in Denmark were made by the psychologist Edgar Rubin and the physicist Niels *Bohr .
Until the end of the 18th Century, the community remained strictly Orthodox. However, influenced by the movement in Germany, Reform Judaism was introduced into Denmark my Mendel Levin Nathanson. Although there was some tension between Reform and Orthodox Jews, when chief rabbi Abraham Alexander Wolff took office in 1829 he succeeded in reducing the friction.
Holocaust Era
For almost three and a half years, from the day of Denmark's occupation on April 9, 1940, through the end of August 1943, the Danish Jewish community was largely safe from persecution. However, mounting Danish resistance during the summer of 1943 eventually destroyed the base of the Danish-German Agreement from 1940 and subsequent agreements, which protected the Jews from Nazi deportation. In September 1943, martial law was declared in Denmark and the representative of the German Reich in Denmark, Werner Best, advocated deporting the Jews. F.G. Dukwitz, the attache for shipping affairs, maintained good relations with leading Danish Social Democrats and informed them of the impending danger for the Jews. Overnight a rescue organization was established and 7,200 Jews and 700 non-Jewish relatives were organized to flee for Sweden.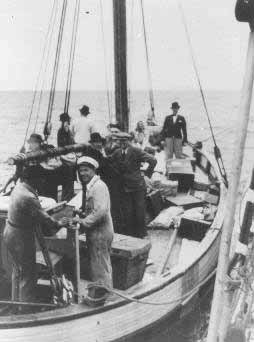 Danish fishermen (foreground) ferry Jews across a narrow sound to safety in neutral Sweden during the German occupation of Denmark. Sweden, 1943 (USHMM Photo).
This spontaneous and successful effort eventually developed into the organized group of the Danish Resistance Movement. The Danish resistance movement was very successful and secret trafficking of people, goods, and information between Sweden and Denmark remained throughout World War II and enabled the resistance movement to communicate with Allied forces. King Christian X also spoke out strongly against Nazi occupation and the oppression of the Jews; however, a popular story that the King wore a yellow star to demonstrate solidarity with the Jews is untrue.
During the first night of persecution, October 1-2, 1943, the Germans seized fewer than 500 Jews. They were sent to Theresienstadt and remained there until the spring of 1945, when those who survived were brought to Sweden by the action of the Swedish Red Cross. An estimated 120 Jewish Danes were murdered in the Holocaust; however, less than two percent of the Jewish population of Denmark perished.
Nevertheless, in May 2005, Denmark apologized for sending at least 19 Jews to concentration camps. Prime Minister, Anders Fogh Rasmussen, told a crowd of people commemorating the 60th anniversary of the end of World War II that the actions are a "stain on Denmark's otherwise good reputation."
Modern Community
The Jewish Population of Denmark at the end of 1968 was about the same as before World War II, between 6,000 and 7,000, with only one percent of the Jewish population residing outside of Copenhagen. Almost all the Jews who were rescued during World War II returned to Denmark at the end of the war; however, the birth rate continues to be low. There are about 7,000 Jews in Denmark today, out of a total population of 5.25 million. The majority of Jews reside in Copenhagen, but smaller communities exist in Odense and Aarhus.
A positive relationship exists between Jews and non-Jews, and mutual goodwill has been demonstrated on numerous occasions such as the tenth and twenty-fifth anniversaries of the rescue of Danish Jewry from Nazi persecution, and in 1964 with the 150th anniversary of the granting of citizenship to Jews in Denmark.
The Jewish community is state recognized and is therefore entitled to assess all Jews in the country for taxation, allow rabbis to perform marriages and register births and deaths. Copenhagen also has the Caroline Jewish Day School, founded in 1805, with an enrollment of some 300 pupils. The Royal Library in Copenhagen houses the Bibliotheca Simonseniana, an extensive Jewish books and Judaica department.
The Mosaiske Troessamfund is Danish Jewry's central communal organization. The community supports an active Zionist Federation, WIZO (Women's International Zionist Organization), and B'nai B'rith. The B'nai Akiva movement is active in Jewish life and has inspired great support for aliyah. Many young people were also very active in aiding Soviet Jewry. The Great Synagogue in Copenhagen was completed in 1833 and is the seat of the chief rabbi. There is also another Orthodox synagogue in the city that contains a mikvah, and one reform and one unaffiliated synagogue. Outside of Copenhagen there is a Chabad in Frederiksberg and an unaffiliated synagogue in Hornbaek. Kosher food is readily available and Denmark exports kosher meat to Sweden and Norway, where shechita is not permitted. Joedisk Orientering is the leading Jewish publication in Denmark.
The royal family has remained largely supportive of the Jewish community, and in 1983, Queen Margrethe attended a service at the Copenhagen Synagogue to commemorate its 150th anniversary. In 1987, she hosted Israel's President Chaim Herzog, and in 1993 she agreed to be the patron to mark the fiftieth anniversary of the rescue operation of Danish Jews in October 1943. In 1993, a plaque was erected at a memorial service in Bispebjerg Hospital where 2,000 Danish Jews were hidden on their way to Sweden in October 1943.
In June 2004, Copenhagen will open the city's first Jewish Museum, which will present Danish-Jewish culture, art and history extending back to the first Jewish immigration around 400 years ago. The museum will be located in rooms within the oldest part of the Royal Library and is designed by architect, Daniel Libeskind, who has also designed the Jewish Museum in Berlin.
The Museum of Danish Resistance tells the story of Danish resistance during the Nazi occupation of 1940 -1945. It began as an exhibition called Fighting Denmark, arranged by the Resistance Council in the summer of 1945 and in 1957 a permanent museum was opened here. The current exhibition was inaugurated in 1995. Behind the museum in Churchill Park there is the sculpture, "Wounded Woman", which was presented by the State of Israel to the Danish people in appreciation of their support during the Jews' flight from the Nazi occupation in World War II. The sculpture, by the Israeli artist Bernard Reder (1897-1963), was unveiled in 1969.
Connected to the Danish Resistance is the Memorial Park in Ryvangen. Here lie 106 members of the Resistance in a landscaped garden. Also, behind a large granite monument made by Axel Poulsen in 1949, lie the graves of 31 patriots who died in concentration camps as well as 151 commemorative plaques in honour of some of those who disappeared without trace.
On May 5, 2005, sixty years after the liberation of Denmark, Danish Prime Minister Fogh Rasmussen apologized for the extradition of innocent people, 21 of them Jews, to Nazi Germany during World War II. Rasmussen spoke at Mindelunden, which serves as a symbol of Danish resistence during World War II where the majority of freedom fighters are buried, before an audience of 5,000, including Queen Margrethe III.
The Jewish community of Denmark documented 40 anti-Semitic incidents in 2012, almost double the number from 2009.
In October 2013, Finn Schwarz, the President of the Jewish Community in Denmark, or Mosaisk Troessamfund, reported that the jewish community has lost 25 percent of its registered members over the past 15 years, partly due to anti-Semitism. The community currently stands at 1,899 registered members (the overall Jewish population of Denmark is approximately 6,400) in comparison to 2,639 in 1997.
A 22 year old local Denmark man named Omar Abdel Hamid El-Hussein, who had been released from prison only two weeks prior for a stabbing, posted on facebook swearing his allegiance to ISIS and it's leader Abu Bakr al-Baghdadi hours before embarking on a shooting spree that terrified Copenhagen on February 14, 2015.  El-Hussein first opened fire at a free speech rally being held at a local cafe, killing  55-year old filmmaker Finn Norgaard.  His intended target was most likely Swedish artist Lars Vilks, who was in attendance at the rally and has in the past published caricatures of the Prophet Mohammed that have placed him on Al-Qaeda hit lists.  Vilks escaped unharmed but the gunman managed to escape in a taxi and reappeared hours later at a local synagogue, where he shot multiple people and exchanged volleys of fire with police before being killed by the officers.  Two security officers working at the synagogue were wounded and 37 year old Dan Uzan, who was providing security for a Bat Mitzvah underway at the facility, was shot and killed by El-Hussein. In response to this attack, armed security officers were deployed at Jewish community centers and cultural sites throughout Denmark.  Israeli Prime Minister Benjamin Netanyahu once again invited Jews from Europe to emigrate to Israel to escape antisemitic attitudes in response, stating "I would like to tell all European Jews and all Jews wherever they are: 'Israel is the home of every Jew.'"  Dan Uzan, the security guard killed in the attack, was named Denmark's "man of the year" in December 2015. Four individuals were put on trial for aiding the gunman between the two shootings, in March 2016. The defendants were accused of aiding El-Hussein by providing him with a hooded sweatshirt, ammunition, and a bag, and paying for time at an internet cafe where he located the synagogue.
Relations with Israel
The relations between Denmark and Israel have been friendly and warm. Denmark voted for the partition of Palestine in 1947, recognized the State of Israel soon after its establishment and established formal diplomatic relations with Israel on the ambassadorial level.
Denmark has usually supported Israel in the United Nations. Of special note was its active support for Israel's right to free passage through the Suez Canal and the Gulf of Eilat, expressed in the attempt of the Danish boat Inge Toft to transport Israeli cargo through the Suez Canal in 1959.
Trade relations have also strengthened in the last few decades, developing from a modest scope to over $9,500,000 in 1968, with a balance between imports and exports, and $220 million in 2003, with Israel importing twice as much as it exported. Tourism from Denmark to Israel grew substantially over the years. The two countries maintained active friendship leagues, which concern themselves with disseminating information, caring for tourists, exchange visits of public figures, scientists, artists, etc. In most of the cities of Israel, streets or squares are named in honor of Denmark.
In Jerusalem, a monument to the rescue of Danish Jewry was erected on the twenty-fifth anniversary of the operation, and a school is also named in Denmark's honor. King Christian X hospital in Eitonim is named after Denmark's king during World War II.
---
Sources: "Denmark." Encyclopedia Judaica- CD-ROM edition;
"Denmark" Jewish Communities of the World;
Official Tourism Site of Copenhagen;
World IQ;
JTA, (May 9, 2005);
The Stephen Roth Institute for the Study of Contemporary Anti-Semitism and Racism, Annual Report 2005, Denmark; Encyclopaedia Judaica. © 2008 The Gale Group. All Rights Reserved;
Danish Jewry Dwindling in Part due to Anti-Semitism, Community Leader Says, Jerusalem Post (October 8, 2013);
Dominic Chopping, Christina Zander.  Copenhagen Attacks Reignite Debate About Safety of Jews in Europe, The Wall Street Journal (February 15, 2015);
Obama, Danish PM vow to confront terror, anti-Semitism together, Times of Israel (February 17, 2015);
CIA. 

C.E. Cohen, De Mosaiske Troesbekjenderes Stilling i Danmark… (1837); M.L. Nathanson, Historisk Fremstilling af Jødernes Forhold og Stilling i Danmark (1860); J. Salomon and J. Fischer, Mindeskrift i Anledning af Hundredaarsdagen for Anordningen af 29. Marts 1814 (1914); B. Balslev, De Danske Jøders Historie (1932); Moritzen, in: Contemporary Jewish Record, 3 (1940), 274–80; M. Hartvig, Jøderne i Danmark i tiden 1600–1800 (1951); G. Hartmann and F. Schulsinger, Physical and Mental Stress… Within the Jewish Population of Denmark (1952); J. Margolinsky, Gravspladserne på mosaisk vestre kirkegaard 1886–1955 (1955); idem, Gravspladserne på mosaisk nordre kirkegaard i Møllegade 1693–1953 (1956); idem, De jødiske kirkegaard i danske provinsbyer 1722–1956 (1957). HOLOCAUST PERIOD: L. Yahil, The Rescue of Danish Jewry (1969); idem, in: WLB (Oct. 1962), 73 (bibliography); Wilhelm, in: YLBI, 3 (1958), 313–32; Yad Vashem Studies, 6 (1967), 181–220; B. Outze (ed.), Denmark during the German Occupation (1946); Valentin, in: YIVO Bleter, 8 (1953), 224–51; Y. Haestrop, From Occupied to Ally: Denmark's Fight for Freedom (1963); idem, Exposé, European Resistance Movement 1939–1945 (1960–64); A. Bertelsen, October '43 (Eng. 1956); Tid Landetz Beste, 1 (1966); W. Lord, A Night to Remember (1967), novel; E. Arnold, A Night of Watching (1967), novel; R. Oppenheim, The Door of Death (1948), novel; H. Flender, Rescue in Denmark (1963). CONTEMPORARY PERIOD: A. Tartakower, Shivtei Yisrael, 2 (1966), 254–8; M. Melchior, A Rabbi Remembers (1968).