Virtual Jewish World: Arkansas, United States
Early History
The first documented Jewish settler in Arkansas was Abraham Block, who came in 1823 and established a store at Washington, Arkansas (now known as Old Washington State Park), located on the Southwest Trail. He was a fairly wealthy man, husband of Frances "Fannie" Isaacs, whose father, Isaiah Isaacs , was the initial Jewish settler in Richmond, Virginia. Block was acquainted with early Texas luminaries, such as Sam Houston, Davy Crockett, Stephen Austin, and Jim Bowie. Block's neighbor, smithy James Black, forged the famous Bowie knife. (Block's two-story home still stands.) He was followed to Arkansas by the brothers Jacob, Hyman, and Louis Mitchell, who immigrated to Hot Springs in 1830. They became successful merchants, conducting a large business between Fort Smith, Little Rock, and Hot Springs. In 1839 the eldest of the brothers, Jacob, organized a stagecoach line between Little Rock and Hot Springs. Samuel Adler, father of Cyrus Adler , settled in Van Buren in the late 1850s.
From 1830 until the close of the Civil War Jews went to Arkansas sporadically. Some 200 Jewish merchants were in the state by 1860 and more than 70 served in the Confederate Army. Several were captured, and two lost their lives. Max Frauenthal, a Civil War hero, settled at Conway in 1872 and established what became one of the state's largest stores. After 1865 there was a large influx of Jews into the state. A number of towns were named for Jews, including such men as Louis and Joseph Altheimer, Adolph Felsenthal, J.D. Goldman, and Morris Levy, all of whom played vital roles in the state's history. Several sawmill towns were named for Jewish men, such as Henry Berger, Sol Bertig, and Victor Waldstein. At the close of the Civil War, the increase in the number of Jews led to the establishment of congregations throughout the state: Anshe Emeth in Pine Bluff and B'nai Israel in Little Rock formed congregations almost simultaneously in 1866–67; Beth El in Helena (1867); Beth El Emeth in Camden (1869); House of Israel in Hot Springs (1875); Mount Sinai in Texarkana (1876); Temple of Israel in Fort Smith (1880) merged with a second congregation and formed United Hebrew Congregation (1886); Orthodox Shul in Jonesboro (1892); Temple Israel in Jonesboro (1896); Agudath Achim in Little Rock (1904); Beth El in Newport (1904); Dermott Congregation in Dermott (1905); B'nai Israel in Pine Bluff (1907); Sheareth Israel in Hot Springs (1907); Bene Israel in Eudora (1912); B'rith Sholom in Osceola (1912); B'nai Israel in Fort Smith (1913); Tifereth Israel in Forrest City (1914); Marianna Congregation in Marianna (1914); Ahavah Achim in Wynne (1915); Ohev Zedek in El Dorado (1920s); Reform Congregation in El Dorado (1920s); Temple Israel in Pine Bluff (1921); Temple Israel in Blytheville (1936); Beth Israel in El Dorado (1940s); Meir Chayim in McGehee (1947); Beth Jacob in Hot Springs (1950); Temple Shalom in Fayetteville (1981); Lubavitch of Arkansas in Little Rock (1992). The Chabad-Lubavitch Hebrew Academy of Arkansas was opened in Little Rock in 2003 with 16 students. An outstanding philanthropic institution is the Leo N. Levi Memorial Hospital (now Levi Hospital) established in 1914 in Hot Springs.
Twentieth Century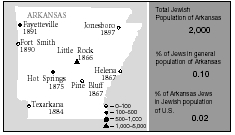 Jewish communities in Arkansas and dates of establishment. Population figures for 2001.

 
In 1931 the Jews of Arkansas formed a Kehillah-type organization, the Arkansas Jewish Assembly, which sought to strengthen the scattered Jews of the state. Supplying spiritual leaders to small congregations, promoting Jewish educational programs and youth groups, and holding yearly conventions, it was successful until 1951, when Jewish Federations began fulfilling such functions. Jews have occupied important government positions in Arkansas, including Jacob Trieber, United States District Court judge, 1900–27 (first Jewish Federal judge), and Sam Frauenthal, associate justice of the Arkansas Supreme Court. In 1997 Annabelle C. Imber, a Jew by choice, was the first woman elected to the Arkansas State Supreme Court. Many other Jewish citizens have served as mayors, aldermen, councilmen, and state senators and representatives.
Rabbi Ira E. Sanders, leader of Congregation B'nai Israel of Little Rock from 1926–63 (and as rabbi emeritus until his death in 1985), was an outspoken proponent of integration during the 1957 school crisis. He was followed in 1963 by Rabbi E.E. Palnick, who continued the civil rights efforts of his predecessor. Little Rock's Jewish women were prominent workers in the Women's Emergency Committee, which sought to reopen the city's high schools, which were closed by Gov. Orval Faubus after the desegregation order.
Of the 30 documented congregations established in the state between 1866 and 2004, only a few survive. Jewish communities with active congregations are located in Little Rock (3), Bentonville, Fayetteville, Fort Smith, Hot Springs, Jonesboro, and Helena (the latter two have but a handful of adherents).
As of 2017, Arkansas's Jewish population was approximately 2,225.
---
Sources: Encyclopaedia Judaica. © 2008 The Gale Group. All Rights Reserved.
M.K. Bauman and B. Kalin, (eds.), The Quiet Voices: Southern Rabbis and Black Civil Rights, 1880s to 1990s (1997), 95–120; C.G. LeMaster, A Corner of the Tapestry: A History of the Jewish Experience in Arkansas, 1820s–1990s (1994), 3–12, 43–46, 51–93, 222–25, 309–31, 374–78; Sheppard, in: Arkansas State Gazetteer (1866), 319–21, 324–29; AJHSP, 3 (1893), 24, 38; 6 (1897), 144, 149, 150; 19 (1910), 96; Herndon, in: Centennial History of Arkansas, 2 (1922), 23, 100, 136, 396, 739, 895, 984; D.E. Wagoner, Levi Arthritis Hospital: More Lasting Than Marble or Stone (1984).