The Pale of Settlement
by Alden Oreck
---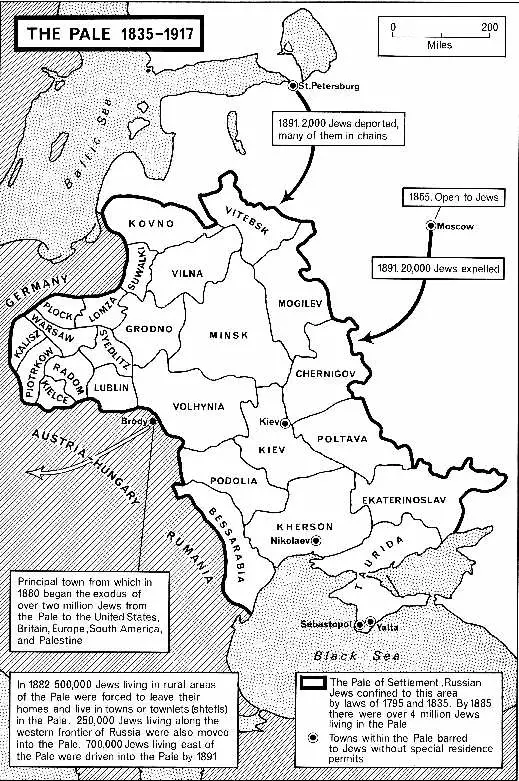 Czar Cathrine II ("The Great") established the Pale of Settlement in 1791 as a territory for Russian Jews to live. Created under pressure to rid Moscow of Jewish business competition and "evil" influence on the Russian masses, the Pale of Settlement included the territory of present-day Poland, Latvia, Lithuania, Ukraine and Belorussia. More than 90% of Russian Jews were forced to live in the poor conditions of the Pale, which made up only 4% of imperial Russia. Still, the Jewish population in Russia grew from 1.6 million in 1820 to 5.6 million in 1910. Even within the Pale, Jews were discriminated against; they paid double taxes, were forbidden to lease land, run taverns or receive higher education.
A liberalization period in the 1860s, which granted Jews some privileges was reversed under the May Laws of 1882. These laws restricted Jews in the Pale to urban areas, which were often overcrowded and offered limited economic opportunities. In addition thousands of Jews fell victim to devastating pogroms in the 1870s and 1880s. The pogroms, boycotts and other anti-Semitic depredations Jews faced in the Pale led to mass immigration to the United States (two million between 1881 and 1914) as well as a string of other developments, such as the controversial Haskalah movement, which sought to modernize Jewish culture. Zionism also took hold in the Pale. Only after the overthrow of the Czarist regime in 1917 was the Pale of Settlement abolished.
---
Sources: The New Standard Jewish Encyclopedia, The Shengold Jewish Encyclopedia, The Jewish World. Map. Map from The Routledge Atlas of Jewish History Ed. 7 by Martin Gilbert. ISBN: 9780415399661. Routledge is an imprint of the Taylor & Francis Group. © 2007 Martin Gilbert.