Naftali Bennett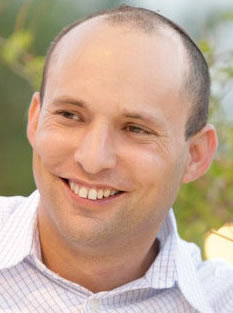 (1972 - )
---
Naftali Bennett is a former software entrepreneur and an Israeli politician. He is the current leader of The Jewish Home political party and the Minister of Economy and Trade in the 33rd Government of the State of Israel.
Bennett (born March 25, 1972) was born in Haifa. to an Americna Jewish couple who had immigrated to Israel just after the Six Day War in 1967. He is the youngest of three sons.
Growing up Bennett attended a religious high school and was a youth leader in Bnei Akiva. He served in the Israel Defense Forces in the elite special forces commando unit Sayeret Matkal as well as the special forces unit Maglan. After his service he earned a law degree at the Hebrew University of Jerusalem.
From 2006 to 2008, Bennett served as Benjamin Netanyahu's Chief of Staff. In 2010 he was chosen to be the Director General of the Yesha Council and worked against a settlement freeze.
In April 2012, Bennett broke away from the Likud Party and joined The Jewish Home (Habayit Hayehudi, in Hebrew). In the January 2013 Knesset elections, Bennett's party won 12 seats in the parliament, making it the fifth largest party in the legistlature. In March 2013, Bennett and Yair Lapid, the head of the Yesh Atid Party, joined forces with Prime Minister Benjamin Netanyahu to form a coalition government. Bennett was rewarded with the position of Minister of Economy and Trade.
Bennett is the author of the "Bennett Plan" of solving the Israeli-Palestinian Conflict. The plan involves three divisions of the West Bank. Israel would annex "Area C," while the Palestinian Authority would retain control over Areas A and B while working in concert with Israel's security forces to ensure peace. Gaza would be ruled by Egypt. Bennett does not support the creation of a Palestinian state.
---
Sources: Haaretz (January 17, 2013; January 18, 2013)