Prisoners' Shoes from Majdanek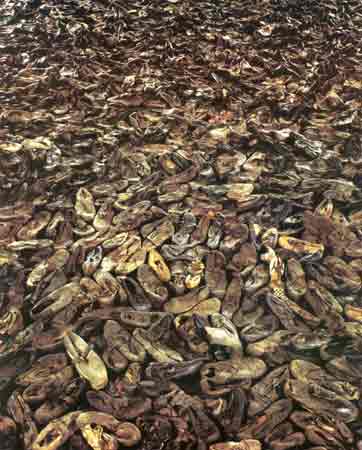 The "Final Solution" was not only systematic murder, but systematic plunder. Before victims were gassed at Belzec, Sobibor, Treblinka, Chelmno, Majdanek, and Auschwitz-Birkenau, the SS confiscated all their belongings. First to go were money and other valuables; clothes were next. This mass pillage yielded mountains of clothing. Auschwitz-Birkenau and Majdanek together generated nearly 300,000 pairs of shoes, which were distributed among German settlers in Poland and among the inmates of other concentration camps. The shoes in this photo were confiscated from prisoners in Majdanek. The "Final Solution" produced over 2,000 freight carloads of stolen goods.
---
Source: United States Holocaust Memorial Museum. Photograph by Arnold Kramer.