Mauthausen: KZ Gusen Complex
The KZ Gusen I, II & III Concentration Camp complex was the biggest and most brutal within the Mauthausen System of Camps.
In fact, in 1944, the KZ Gusen Complex (with 25,000) had double the number of inmates of the related Mauthausen Central Camp (some 12,000 inmates at that time).

This vast increase of inmates was due to the creation of the KZ Gusen II Concentration Camp a few hundred meters west to house some 16,000 inmates who were deported there for the construction and operation of the huge Underground Plant at St. Georgen/Gusen (BERGKRISTALL) and Langenstein (KELLERBAU).

Since the BERGKRISTALL Project had strategic importance (it was used for the serial final-assembly of the Me 262 jet-plane that was the first in world-history to be produced serially), working-conditions were so bad that death rates in those specific camps reached 70 to 90% (depending on the weather conditions).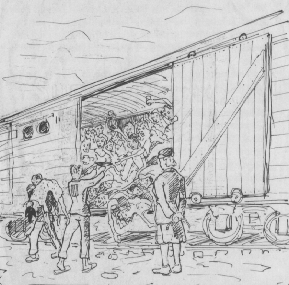 Since there were just a few survivors of the KZ Gusen II Extermination Camp (as the KZ Gusen I survivers use to say), nearly all of KZ Gusen II history became forgotten within the last decades.

Thanks to the direct local-international cooperation of KZ Gusen Survivors and eye-wittnesses from the local population around the three different camps, we now are able to make some general information about this giant but forgotten complex available to historians, students and other interested people.

The 40,000 forgotten KZ Gusen victims represent the biggest group of victims within the "Mauthausen" System of more than 40 camps that spread all around "Austria" in that awful period between 1938 and 1945.

It is also important to note that more people died at the KZ Gusen I, II & III camps than at the related Mauthausen Central Camp.All in all, the 40,000 KZ Gusen victims represent nearly 1/3 of all the concentration camp victims on "Austrian" territory.
Furthermore, nearly 80% of all the Germans and Austrians that were sent to "Mauthausen"e actually died at Gusen. Several thousand KZ Gusen inmates were also re-transferred to the "Sanitäts-Lager"e outside of the Mauthausen central camp to die there due to the very bad conditions within the KZ Gusen II camp.
---
Sources: Gusen Memorial Committee. Photo credit: Gusen Memorial Committee