---
---
Map of the Bahamas

The small Jewish community in the Bahamas has origins dating to the 17th century. The British first settled the Bahamas in 1620; however, few Jews came to the live on the islands. Luis De Torres, who was the official interpreter for Christopher Columbus, is thought to be have been the first Jew and European to set foot in the New World when the Santa Maria landed at San Salvador in 1492. Torres was a Marrano, a "secret Jew," who officially practiced Catholicism but was escaping the dangers of Europe during the Inquisition. He was fluent in Arabic, Hebrew, Chaldean, Spanish, Portuguese, French and Latin. Another Jew, Moses Franks, served as attorney general and chief justice of the islands in the 18th century. After World War I, a few Jewish families from Poland, Russia, and Britain settled in Nassau. Later Jews came to Freeport on Grand Bahama Island.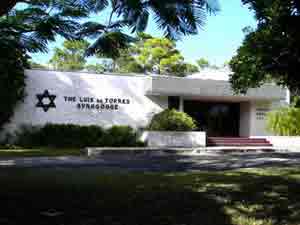 Luis De Torres Synagogue in Freeport
Today there are between 100 and 200 Jews in the Bahamas. In Nassau, there is a Reform Community who, as yet, do not have a Synagogue; in Freeport, there is a Reform Community also, who have a Synagogue which was built in 1972.
The Community in Nassau is named The Nassau Jewish Congregation, and is affiliated to the Union of Jewish Congregations of Latin America and the Caribbean. At the corner of Shirley St. and Lover's Lane, in Nassau on New Providence Island, there is a special section of a cemetery that is walled-off for Jewish graves.
The Community in Freeport, on Grand Bahama Island, the Freeport Hebrew Congregation, is somewhat lesser in numbers than in Nassau, and is affiliated to the Union for Reform Judaism. Its Synagogue, named the Luis De Torres Synagogue, has Erev Shabbat Services from Rosh Hashana until the following May, and for the major Festivals. A Member of this Community is the designated Jewish Marriage Officer for the Bahamas.
Contact Information:
Freeport Hebrew Congregation
P.O. Box F-41761
Freeport, Grand Bahama Island
Tel. (242)373-2008 or (630)929-3061 Fax: (242)373-2130 or (925)871-5528
Email. hurst100@yahoo.com
---
Source:
World Jewish Congress
International Association of Jewish Genealogical Societies
Photo Courtesy of Freeport Hebrew Congregation