Ehud "Udi" Goldwasser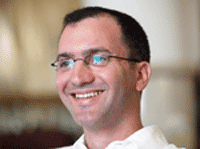 (1975 - 2008)
---
View Full List of IDF Soldiers "Missing in Action" - CLICK HERE
---
Ehud "Udi" Goldwasser (31 at the time of his abduction) was born on July 18, 1975. He was the son of Shlomo and Micky, the older brother of Yair and Gadi, and the husband to Karnit. Goldwasser lived in Nahariya prior to the Second Lebanon War where he was a graduate student at the Technion. He had also earned his undergraduate degree from the Technion in environmental engineering. As a teenager he lived with his family in South Africa.
On July 12, 2006 Goldwasser served in the Israel Defense Force and was abducted with Eldad Regev by Hezbollah when they attacked his military patrol along the Lebanese border.
On September 19, 2006 the rock band Aerosmith dedicated their song "Dream On" to Goldwasser.
On April 12, 2007, the U.S. Congress passed a bill demanding the immediate release of all Israeli soldiers by Hamas and Hezbollah, in particular Gilad Shalit, Regev and Goldwasser.
On July 16, 2008, Hezbollah gave Israel the coffins of Goldwasser and Regev in exchange for Lebanese terrorist Samir Kuntar, four other Hezbollah fighters Israel captured in the 2006 war, and the remains of 199 Lebanese and Palestinian terrorists.
On Thursday, July 17, 2008, Goldwasser was posthumously promoted to the rank of First Sergeant and was buried at the Nahariya Military Cemetery.
---
Sources: Wikipedia, Israel Ministry of Foreign Affairs