Ronald Klein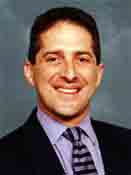 (1957- )
---
Ronald Klein was elected as the representative of the 22nd district of Florida to the House of Representatives on November 7, 2006, defeating 13-term Republican incumbent Clay Shaw. A combination of Klein's fundraising ability, voting record in state politics, and friendship with Robert Wexler, allowed him to successfully unseat Rep. Shaw.
While studying as an undergraduate at The Ohio State University, Klein was an intern at the Ohio General Assembly. He received his law degree from Case Western Reserve University School of Law in 1982. In 1992, Klein defeated Steve Press, a ten-year incumbent, in the Democratic primary for the Florida House of Representatives and in 1996, he was elected to the Florida Senate. He served as minority whip in 1998 and as minority leader from 2002-2004.
While serving in the State Legislature, Klein built a reputation for his work on technology, criminal justice, healthcare, education, and gun control. His Holocaust Education Act mandated the study of the Holocaust in all of Florida's public schools.
Klein is a Director at the Boca Raton based law firm Sachs, Sax, & Klein where he specializes in health care, real estate, and business law.
---
Sources: Klein for Congress, Wikipedia