Abd al-Aziz Rantissi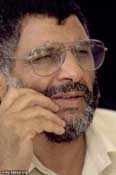 (1947-2004)
---
Abd al-Aziz Rantissi was born in Yubna, near Jaffa. In 1948, his family moved to the Gaza Strip. He was an outstanding student. He completed his secondary school education in 1965 and was admitted as a student to the faculty of medicine at Alexandria University (Egypt). He graduated in 1972, returned to Gaza for two years, and than obtained a masters degree in Pediatrics.
Rantissi studied in Egypt for nine years and received a degree in pediatric medicine. While there, he was influenced by the philosophy of the Muslim Brotherhood.
In 1976, he returned to Gaza and became part of the Muslim Brotherhood movement. He also worked as a resident physician at Nasser Hospital (the main medical centre in Khan Yunis). He occupied several posts in public works such as a member in the administrative board of the Islamic Complex, Arab Medical Society in Gaza, and the Palestinian Red Crescent Society.
Rantisi joined the Faculty of Science at the Islamic University of Gaza when it opened in 1978 and also became Chief Pediatrician in the Government Hospital in Khan Yunis. In 1983, he was arrested for refusing to pay taxes to Israel. On January 15, 1988, he was again arrested for 21 days.
In September 1987, four residents of the Jabalya refugee camp in Gaza were killed in a traffic accident. According to Rantisi, he joined with Sheikh Ahmad Yassin, 'Abdel Fattah Dukhan, Mohammed Shama', Dr. Ibrahim al-Yazour, Issa al-Najjar, and Salah Shehadeh and instructed people to exit the mosques chanting "Allah Akbar" (God is great). This was how the first intifada began, says Rantisi, under the leadership of what would subsequently be known as Hamas. The PLO later joined and a united leadership was formed. On March 4, 1988, Israel arrested him for his participation in the Intifada. He was released on September 4, 1990. On December 14, 1990 he was again arrested and placed in administrative detention.
"All the land of Palestine is a part of the Islamic faith and the Caliph Omar bin al-Khattab declared it for all Muslims. Therefore, no individual or group has the right to sell it or give it up." (Kul al-Arab, January 9, 1998)
In December 1992, he was expelled to Lebanon, as part of the expulsion of 416 Hamas and Islamic Jihad operatives, and emerged as general spokesman of those expelled to southern Lebanon. Upon his return in 1993, he was arrested, but later released.
Rantissi was detained many times by the Palestinian Authority for his criticism of the PA and Arafat, but in most cases, was released after a short period.
After the return of Sheikh Yassin to the Gaza Strip in October 1997, Yassin, together with the senior operatives including Rantissi, reorganized the Hamas leadership in the Gaza Strip to restore its activity.
In mid-1999, following his release from a PA prison, Rantissi returned to his position as "right hand" to Yassin. During talks among the Hamas leadership in Gaza and abroad and in its contact with the PA regarding ceasing terror activity, Rantissi, together with Ibrahim Macadma and with the support of the external leadership, was one of the main opponents to any cease-fire and cessation of terrorist attacks inside Israel.
Abd al-Aziz Rantissi replaced Salah Shehadeh and Ibriahim Macadma, after they were assassinated by Israel, as the head (along with "spiritual" leader Yassin) of Hamas and its principal spokesperson.
Hamas tries to present a separation between the political leadership and the military wing, as if the military activity serves no political aim. In practice, the formal "military leadership" of the Hamas is subordinate to what is known as the "political leadership." However, it is this "political echelon" of the terrorist organizations, which directs, instructs and determines policy, including terrorist activity. Interrogation of Hamas operatives point to Rantissi as directing Hamas terrorist policy. His public statements serve as instructions for terrorists to carry out attacks.
Rantissi has considerable influence over the Palestinian public, in general and the Hamas operatives, in particular. He delivers sermons, addresses, and interviews utilizing extreme language, in which he calls for the continuation of the terrorist activity against the State of Israel and its citizens, opposing any cease fire. This serves as instructions to the field operatives in the Gaza Strip and the West Bank to continue their terrorist activity.
The Hamas leadership in Gaza is also involved in the recruitment and operation of terrorist cells among Israeli Arabs, which has so far, been thwarted by Israeli security forces. Rantissi was directly involved in directing and guiding this activity.
Rantissi is responsible for directing many terrorist attacks by Hamas, including the June 8, 2003, attack in which four Israeli soldiers were killed at the Erez Checkpoint in the Gaza Strip. Following this attack, Israel unsuccessfully attempted to assasinate Rantisi on June 10.
Upon the assassination of Sheikh Ahmed Yassin on March 22, 2004, Rantissi was named head of Hamas's activities in the Gaza Strip.
On April 17, 2004, Israeli security forces killed Abdel Aziz Rantisi.
Public statements by Rantissi calling for and encouraging attacks against Israel:
January 2001: Rantissi, quoted on the Hamas website, calls to step up the painful strikes against the "Zionist enemy" in order to create a balance of deterrence and to bring about the expulsion of the enemy. He added that "what happened in Lebanon, will also happen in Palestine."
January 2001: Rantissi notes that it is clear to all that the military wing of Hamas, the Az a-Din Al Qassam, is responsible for military "operations" against the "Israeli occupation forces." Rantissi also calls for the continuation of the armed "Intifada," and states that [the hurling of stones] will not suffice.
April 2001: Rantissi admitted publicly that the Hamas fires mortars, and notes that in the future Israeli cities will be targeted.
May 2001: Rantissi calls on Hamas in Gaza to wage an all out war against Israel.
June 2001: Rantissi states on the Hamas website the intention to continue with suicide bombings. In addition, Rantissi praises the suicide bombers.
July 2001: Rantissi calls to strike every Israeli politician, especially Sharon and Peres (following the killing of Hamas operatives in Nablus) and noted that Az a-Din Al-Qassam operatives will respond.
March 2002: Rantissi, on the Hamas website, calls on the military wing of Hamas to carry out suicide attacks in Israel.
March 2002: During a television interview, Rantissi states that with"Allah's help," we will also kill Prime Minister Sharon.
April 2002: In an interview on the Hamas website following the terrorist attack in Adura, Rantissi states that this is the beginning of a cycle of revenge and that every drop of Palestinian blood will be avenged.
October 2002: During a television interview, Rantissi calls for the military wing of Hamas to carry out suicide bombings in all Israeli territory.
March 2003: Rantissi is quoted in a Reuters article following the attack on Macadma, as stating that a new phase in the war against the Jews has been initiated, and that all Israeli leaders are legitimate targets.
March 2003: An announcement by Hamas in the Gaza Strip calls for the Az a-Din Al Qassam to strike at Israeli ministers and Knesset members.
May 2003: Rantissi calls for the continuation of jihad (holy war) and "resistance" against Israeli soldiers, and states that this is "the only way to free the prisoners."
May 24, 2003: Rantissi, on Radio Teheran, states that the "Road Map" is a "scheme of Sharon's." Rantissi also notes that Sharon's acceptance of the "Road Map" is a conspiracy against the Palestinian nation and against the "resistance."
June 2003: Interviewed in "A-Sharq al-Awsat" newspaper, Rantissi stated that he does not know why Abu Mazen is optimistic about a cease-fire. He stressed that resistance to the "occupation" will continue. Additional statements by Rantissi regarding suicide bombings, including calls for such bombings against American targets:
On April 7, 2003, the Hamas website, quoted Rantissi discussing the suicide attack by two women against American soldiers in Iraq. Rantissi called for Muslims to blow themselves up against U.S. soldiers.
In a Reuters article on March 31, 2003, Rantissi notes that the Iraqi suicide bombings against American soldiers encourages Hamas to carry out suicide bombings against Israeli targets.
Rantissi and his associates opposed the creation of the new Palestinian government and flatly rejected any intention to cooperate with it to reduce violence.
On April 23, Rantissi tells a French news agency that this is not the time to establish a government, but rather, is the time for "jihad." Rantissi also notes that Hamas would accept a Government if it would tolerate terrorism against the Zionist entity, but would not support a government that did not allow terrorist activities.
In a March 30 interview to the above-mentioned agency, Rantissi states that Hamas would not accept a government which accepts Oslo and recognizes the State of Israel.
In an April 9, 2004, Rantissi called for American troops to be murdered. In an interview, he said "We say to the Muslim people of Iraq, we are with you in your struggle against American terror and destruction, we are with you in your war in defense of Islam. We say to the fighter and commander Mokutada A-Sadr: Hamas stands by your side and blesses your Jihad (holy war) and wishes you with the help of God, that you will win and be victorious."
---