The Talmud: Christian Commentary
On some of the shores touched by the Talmud were Christian scholars who became acquainted with portions of it through translation. Of such translations in the Library, we mention three seventeenth-century editions. The first is Talmudis Babylonici Codex Middoth sive De Mensuris Templi, text and translation with a commentary by the noted Christian Hebraist Constantine L'Empereur, "Professor of Theology and the Hebrew and Chaldean Languages at the University of Leyden." The volume was printed at Leyden's noted Elzivir press in 1630. The two others were published in Amsterdam: Duo Tituli Thalmudici Sanhedrin, et Maccoth (Hebrew text, Latin translation and commentary), 1629; and Rosh Hashanah, translated with commentary by Henrico Houting, published in 1695.
Tractate Middot deals with the architecture of the Temple in Jerusalem, in which there was considerable interest in both the Jewish and Christian scholarly communities in the seventeenth century. Constantine L'Empereur's Latin translation and learned commentary is accompanied by a finely detailed floor plan map of the Temple. What gives this volume added distinction is that it was printed by the famed Elzevir Press of Leyden (Rare Book and Special Collections Division, Library of Congress Photo).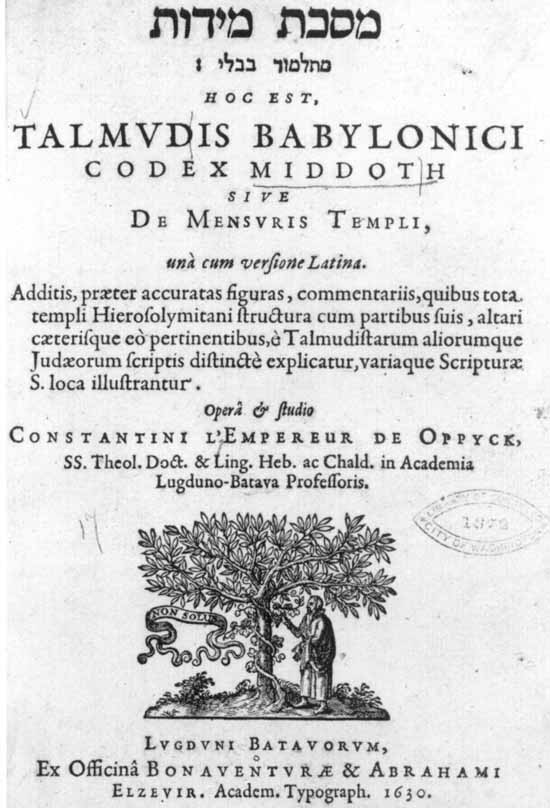 ---
Sources: Abraham J. Karp, From the Ends of the Earth: Judaic Treasures of the Library of Congress, (DC: Library of Congress, 1991).