Yosef "Tommy" Lapid
(1931 - 2008)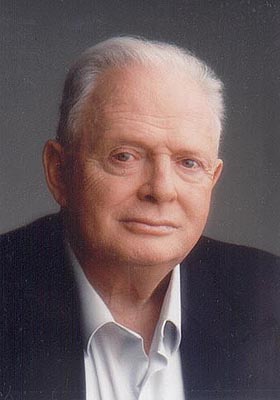 Yosef Tommy Lapid was an Israeli journalist and politician who served in the Fifteenth and Sixteenth Knessets.
Yosef Lapid was born in 1931 in Novi Sad, in the former Yugoslavia, present-day Serbia. His father perished in a concentration camp during the Holocaust, and his mother escaped with him to Budapest, Hungary, where they managed to survive the Holocaust and World War II. In 1948, Yosef Lapid and his mother emigrated to Israel.
Lapid held a law degree (L.L.B.) and was first a journalist, then a politician in his later years. During his journalistic career, he served as General Director of the Israel Broadcasting Authority, Chairman of the Cable TV Union, and Chairman of the Israel Chess Society. His articles were frequently published in the Israeli daily newspaper Maariv, and he authored several books in Hebrew.
Lapid was the head of the Shinui party and a member of the Knesset from 1999 until 2006. In February 2003, he was appointed Minister of Justice and Deputy Prime Minister and served in those capacities in the government of Prime Minister Ariel Sharon until December 2004.
During his time in the Knesset, Lapid served as a member of these committees: the Foreign Affairs & Defense Committee; the Constitution, Law and Justice Committee; the Parliamentary Inquiry Committee for the Location and Restitution of Property of Holocaust Victims; and the Special Committee for Discussion of the Security Service Law. A Holocaust survivor, Lapid also chaired the Yad Vashem Council, a public body of 120 members operating Yad Vashem Council, a public body of 120 members that work in concert with the Yad Vashem Directorate.
Lapid spoke Hebrew, English, German, Hungarian, and Serbo-Croatian and was an accomplished humorist. Among his published writing is a Hebrew book titled Very Important People: One Hundred Interviews and Lots of Humor (1963).
Lapid passed away in June 2008 and is survived by his wife, Israeli author Shulamit Lapid, and two sons, Israeli journalist-turned-politician Yair Lapid and Merav Lapid.
---
Sources: Israeli Ministry of Foreign Affairs.
Knesset website. 
Encyclopaedia Judaica. © 2008 The Gale Group. All Rights Reserved.