Werner von Blomberg
(1878 - 1946)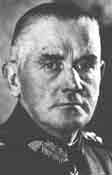 Werner von Blomberg was born in Stargard, Germany, on September 2, 1878. He joined the German Army and served as a second lieutenant in the 73rd Fusilier Regiment. He attended the War Academy (1904-07) before joining the General Staff in 1908.
On the outbreak of the First World War, Blomberg was General Staff Officer with the 19th Reserve Division. He served on the Western Front where won the Pour le Mérite. By the end of the war he had reached the rank of major. Blomberg's two brothers were both killed in the conflict.
Blomberg remained in the army and in 1920 was promoted to lieutenant colonel and was appointed Chief of Staff of the Doeberitz Brigade. Four years later General Hans von Seeckt appointed him as chief of army training.
In 1927 Blomberg was promoted to the rank of major general and was appointed chief of the Troop Office. In this position he clashed with Kurt von Schleicher and in 1929 was sent to East Prussia to serve under Walther von Reichenau.
In 1932 Blomberg was head of the German delegation at the Geneva Disarmament Conference. The following year Adolf Hitler appointed him minister of defence and in 1935 minister of war and commander in chief of the German Army. It was Blomberg's idea to get all soldiers to pledge an oath of personal loyalty to Hitler. In April 1936 Blomberg became Hitler's first field marshal.
Blomberg believed Hitler's Night of the Long Knives massacre was justified to maintain order against Ernst Roehm's rowdy army of SA legions that threatened to eclipse the German Army itself by sheer manpower. He was outmaneuvered, however, by Hermann Goering, who was jealous of Blomberg's power and used the Gestapo to obtain embarrassing information about his pretty young second wife, who turned out to have been a prostitute with a criminal record. In January 1938, Blomberg resigned when he discovered Goering was planning make his information public. Blomberg and his wife were ordered to spend a year in exile on Capri. The scandal allowed Hitler to take direct control of the army.
After the war Blomberg was captured by Allied troops and gave evidence at the Nuremberg War Crimes Trial. Werner Blomberg died while being held in detention on March 14, 1946.
---
Sources: Joric Center; Wistrich, Robert S. Who's Who in Nazi Germany, Routledge, 1997; Spartacus