Vidal Sassoon
(1928 - 2012)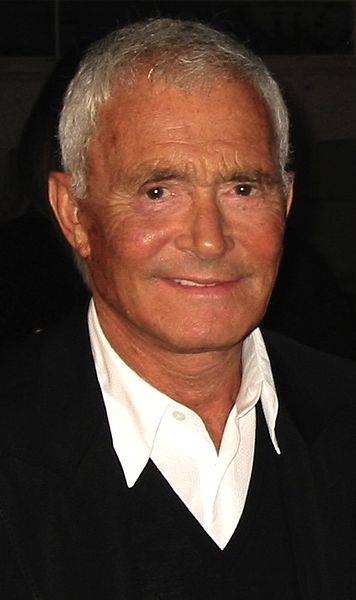 Vidal Sassoon was a Jewish British hairdresser said to have "changed the world with a pair of scissors." He was also a major anti-defamation philanthropist.
Sassoon (born January 17, 1928; died May 9, 2012) was born in Hammersmith, a borough of West London in the United Kingdom, to a Greek Jewish father and Ukranian Jewish mother. Raised primarily by his mother Betty after his father abandoned the family, Sassoon and his brother Ivor lived for seven years in the Spanish and Portuguese Jewish Orphanage in Maida Vale (London) until his mother remarried in 1940 when Vidal was eleven years old.
At age fourteen, Sassoon became an apprentice to an East End wigmaker named Adolph Cohen, who made "sheitels" (hair coverings) for Orthodox Jewish women. In spite of his interest in and passion for architecture - namely Bauhaus designs - Sassoon spent his days shampooing the hair of Cohen's clients and perceived that avenue as his only realistic career option.
When he was seventeen years old, Sassoon joined the "43 Group," a coalition of British Jewish ex-servicemen who fought against fascists in the streets of London. The group's members returned to Britain after World War II only to find supporters of Fascism and anti-Semitism, like the infamous Oswald Mosley.
A Fascist-fighter by night and a hairdresser by day, the young Sassoon said he realized after watching Ingrid Bergman in the 1943 war movie "For Whom the Bell Tolls," that strong women fighters must have low-maintenance hairstyles to improve their talents. During his career as a hairstylist, Sassoon created what English fashionista Hilary Alexander called "the most radical hair shift since [the] 1920's" because he updated the short women's haircut known as the "bob" for 1960s celebrities.
In 1948, Sassoon traveled illegally to British Mandate Palestine with friend and fellow "43 Group" member, Jules Konopinski. Angered by the fact that the British government was turning away ships with Holocaust survivors, Sassoon and Konopinsky left England with one-way tickets "to do our duty." As Sassoon later said, "We were two physical young men, and we were itching to make sure Israel gained its independence."
Sassoon served in the Palmach until Israel's establishment in May 1948, an experience that significantly changed him. "The sense of what we'd done gave me enormous confidence, and I really felt as if I belonged," he said. "And, funnily enough, it gave me a feeling of belonging in London, too. Or belonging anywhere: this is our world … "
In 1954, Sassoon opened his first hair salon on Bond Street in London and gradually established a reputation as a phenomenal hairdresser and stylist. Today, his hair salon company has stores around the world and sells an extensive line of hair products for men and women.
With a genuine rags-to-riches tale as his life story, Sassoon was also a great philanthropist. Among his most well-known causes was the international fight against prejudice and extremism. In 1982, he founded the Vidal Sassoon International Center for the Study of Anti-Semitism at Hebrew University in Jerusalem, which functions as an independent, non-partisan, interdisciplinary research center that gathers and disseminates the knowledge necessary to understand the phenomena of anti-Semitism.
"You do what you can in this life," Sassoon once told his friend Barbara Paskin. "And if what you do can make a different then that's all you could ask for."
Sassoon died of leukemia on May 9, 2012. He is survived by two ex-wives and three of his four children, Eden, Elan, and David.
---
Sources: Stephen Applebaum, "Interview: Vidal Sassoon," Jewish Chronicle, (May 12, 2011).
Benjamin Ivry, "Vidal: A Jewish Soldier of the Hair Salons," The Forward, (May 9, 2012).
Jennifer Lipman, "Vidal Sassoon remembered: Anti-fascist, hairdresser, friend," Jewish Chronicle, (May 17, 2012).
Barbara Paskin, "My friend Vidal Sassoon – the best in the business," Jewish Chronicle, (May 17, 2012).
"Vidal Sassoon," Wikipedia.