First Judaica & Judaic Firsts: The Bologna Pentateuch
To the great university city of Bologna belongs the distinction of being the place of publication of the first printed Hebrew Pentateuch, dated January 25, 1482. The text is in large, clear square letters, with the Targum (Aramaic translation) at its side and the commentary of the most favored of Bible commentators, Rashi, in cursive rabbinic type. The publisher, "who organized the entire enterprise as well as financed it with his own silver and gold," was Joseph ben Abraham Caravita. The printer was Abraham ben Hayyim de Tintori of Pesara, "who had no rival in all the world as a master of the printer's craft." The editor was Yosef Hayyim ben Aaron of Strasbourg, from whom we derive this information about his colleagues, and who promises, "he who will purchase of these volumes will be pleased, and he who will study diligently of them will be blessed with progeny and length of days."
Printed entirely on vellum, this copy of the first edition of the Humash, the Five Books of Moses, once belonged to B. J. De Rossi, the noted eighteenthcentury bibliographer of early Hebrew books, who calls this edition "Editio Rarissima." An Aramaic translation, the Targum Onkeles, is at the side of the Hebrew text, and the commentary of Rashi (R. Solomon b. Yitzhak) at the top and bottom of the page. The publisher was Abraham Caravita, who completed its publication in Bologna, on January 25, 1482. It is open to the Ten Commandments in the Book of Exodus. (Rare book and Special Collections Division, Jefferson Library, Library of Congress Photo)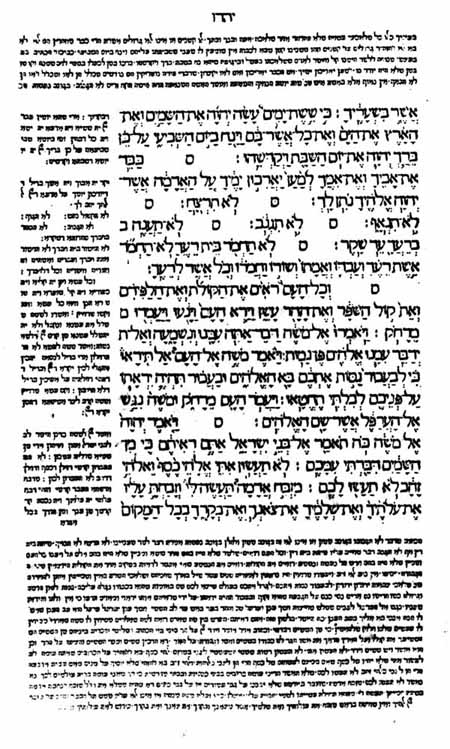 The Library's copy is printed on vellum and has the distinction of having once belonged to Giovanni Bernardo De Rossi (1742-1831), the Italian Christian Hebraist and bibliographer. His library of Jewish literature, of 1,432 manuscripts and 1,442 printed books (including unique incunabula) now in the Palatine library in Parma, is one of the most valuable ever assembled. De Rossi's signature appears on the last leaf.
---
Sources: Abraham J. Karp, From the Ends of the Earth: Judaic Treasures of the Library of Congress, (DC: Library of Congress, 1991).