Tadeusz Pankiewicz
(1908 - 1993)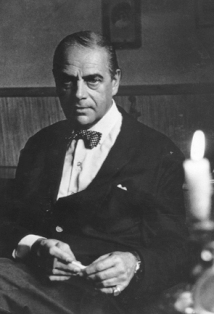 Tadeusz Pankiewicz was a Polish Roman Catholic pharmacist during the Holocaust who rescued countless Jews from the Nazis.

Born on November 1908 in Sambor, Poland, Pankiewicz went to university in Krakow and took over the "Under the Eagle" pharmacy in 1933 that his father founded in 1910. Before World War II, both Jewish and non-Jewish patients used the pharmacy.

When he and the other non-Jewish Kraków ghetto dwellers were ordered to leave in 1941 by the Nazis, Pankiewicz persuaded the Nazis to permit him to stay. His pharmacy soon became a hiding place for Jews and a clearing house for information about possible escape routes.

In addition to his pharmacy, he operated a secret vault beneath the pharmacy where Torahs and other Jewish artifacts were stored. It is widely believed that he was the only Polish non-Jew to survive the German destruction of the ghetto in 1943.

In 1947 he published his account of the two and a half years the shop was open, and at the Nuremberg Trials he was a prosecution witness.

After the war, he returned to work as a pharmacist and only retired in the 1980s.

In 1983, Yad Vashem honored Pankiewicz as a Righteous Among the Nations for his heroic bravery during the Holocaust to save Jewish people.

He died in 1993 of kidney failure and was survived by his wife, Selena.
---
Sources: Yad Vashem, Wikipedia, New York Times (November 12, 1993)