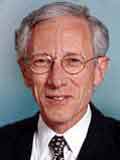 Stanley Fischer is a Jewish economist who served as governor of the Bank of Israel from 2005 to 2013 and is currently the Vice-Chairman of the U.S. Federal Reserve System.
Fischer (born October 15, 1943) was born into a Jewish family in Northern Rhodesia, now Zambia. In 1956, Fischer's family moved to Southern Rhodesia, now Zimbabwe, and later emigrated to the United States, where Stanley became involved in the Zionist youth movement.
In 1960, Fischer visited Israel as part of a winter program for youth leaders and planned to study at the Hebrew University of Jerusalem. He eventually went for university to the United Kingdom after receiving a scholarship from the London School of Economics. In 1966, he graduated from LSE with bachelor's and master's degrees in economics. Fischer later obtained his Ph.D. in economics at MIT in 1969.
Fischer served as Assistant Professor of Economics at the University of Chicago until 1973, when he returned to the MIT Department of Economics as an Associate Professor. He became Professor of Economics in 1977, serving as Killian Professor and Head of the Department of Economics. He has also held visiting positions at the Hebrew University and at the Hoover Institution at Stanford.
Stanley Fischer joined Citigroup in February 2002, serving as Vice Chairman of Citigroup, Head of the Public Sector Group, and Chairman of the Country Risk Committee. Prior to joining Citigroup, Mr. Fischer was the First Deputy Managing Director of the International Monetary Fund, from September 1994 until the end of August 2001. From January 1988 to August 1990 he was Vice President, Development Economics and Chief Economist at the World Bank.
On March 21, 2005, the Israeli Cabinet appointed Fischer as Governor of the Bank of Israel for a five-year term after he was recommended for the position by Prime Minister Ariel Sharon and Finance Minister Benjamin Netanyahu. In May 2005, Fischer officially replaced David Klein as head of the Bank. Despite worries to the contrary, Fischer did not have to renounce his American citizenship to hold the position. In May 2010, Fischer was sworn in for a second term as Bank of Israel Governor.
Fischer earned plaudits across the board for his handling of the Israeli economy in the aftermath of the global financial crisis. In 2010, the Bank of Israel was ranked first among central banks for its efficient functioning, according to IMD's World Competitiveness Yearbook. In September 2009, the Bank of Israel was the first bank in the developed world to raise its interest rates. And, in 2009, 2010, 2011 and 2012, Fischer received an "A" rating on the Central Banker Report Card published by Global Finance magazine.
On January 29, 2013, Fischer announced he would be stepping down as governor of the Bank of Israel effective June 2013. He was replaced in the position by Karnit Flug.
On January 10, 2014, U.S. President Barack Obama nominated Fischer for Vice-Chair of the Federal Reserve to replace Janet Yellen who was confirmed as Fed Chairwoman on January 8, 2014. In nominated Fischer, Obama noted that he brought "decades of leadership and expertise from various roles, including serving at the International Monetary Fund and the Bank of Israel."
Fischer is the author of Macroeconomics (with Rudi Dornbusch and Richard Startz, 9th edition, 2004). He is also the author of Lectures in Macroeconomics (MIT Press, 1989, with Olivier Blanchard), Economics (second edition, McGraw Hill, 1988, with Rudiger Dornbusch and Richard Schmalensee), IMF Essays From a Time of Crisis (MIT Press, 2004) and Indexing, Inflation, and Economic Policy (MIT Press, 1986) and the editor of other books, among them Securing Peace in the Middle East (MIT Press, 1994). From 1986 to 1994 he was editor of the NBER Macroeconomics Annual; he has also served as Associate Editor of other economics journals. He has published extensively in the professional journals.
Fischer is married to wife Rhoda. The couple have three children.
---
Sources: Israeli Foreign Ministry; Wikipedia