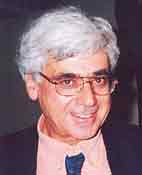 Sari Nusseibeh is a Palestinian diplomat, academic and current President of the Al-Quds University in Jerusalem.
Nusseibeh was born in Damascus, Syria, and received a doctorate in Islamic philosophy from Harvard in 1978. He moved to the West Bank that year to teach at Birzeit University. At the same time, he taught classes in Islamic philosophy at the Hebrew University in Jerusalem. Through the early 1980s, he helped to organize the teachers' union at Birzeit, and served three terms as president of the union of faculty and staff there. Nusseibeh is also co-founder of the Federation of Employees in the Education Sector for the entire West Bank.
Nusseibeh is the Founder and head of the Palestinian Consultancy Group and was the first prominent Palestinian to hold talks with a senior Likud politician, Moshe Amirav, in 1987.
Nusseibeh was a member of the Palestinian steering committee to the 1991 Madrid talks and he has written dozens of articles on Jerusalem and the prospects for agreement with Israel, and is known for his close relations to Israeli leftists, particularly within the Meretz Party.
In 2001, Nusseibeh was appointed as the PLO's representative in East Jerusalem, following the sudden death of Faisal Husseini.
In 2002, Nusseibeh and former Shin Bet director, Ami Ayalon, published the The People's Voice, a civil initiative aimed at advancing the peace process along with a draft peace agreement that called for a Palestinian state based on Israel's 1967 borders and for a compromise on the Palestinian Right of Return. Slightly after this publication, Yasser Arafat deposed Nusseibeh as PLO representative.
---