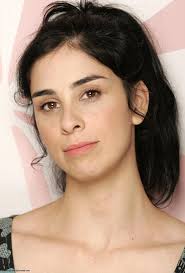 Sarah Silverman is an Emmy Award winning standup commedian and actress who has appeared in comedy specials, movies, TV series and commercials from the 1990's to present day. She has had roles in movies such as "There's Something About Mary", "School of Rock", "Rent", "Funny People", "Wreck-it Ralph", and "The Muppets".  Sarah has also starred in 32 episodes of her own TV show, The Sarah Silverman Program, on Comedy Central. In addition to being in live action movies she has also lent her vocal talents to animated projects such as The Simpsons, Wreck-it Ralph, Aqua Teen Hunger Force, Futurama, American Dad, and Bob's Burgers. 
Silverman was born in Bedford New Hampshire on December 1 1970, the youngest of 5 siblings.  Her father ran a clothing store and her mother was a professional photographer for politician and 1972 presidential hopeful George McGovern.  She battled with depression as a teen, feeling outcast as a Jewish person in a majority Christian town.  Sarah has been a vegan since 10 years old.  After being raised in New Hampshire she attended New York University but did not graduate and began to perform standup comedy routines around New York City in 1992.  After learning the ropes doing local comedy clubs in the city Silverman recieved her big break when she was cast in Saturday Night Live for the 1993-1994 season.  She was hired as a writer and appeared as a cast member on multiple occasions, but was fired after one season because none of her scripts that she wrote made it to air.  To add insult to injury Sarah was fired via a fax sent to her agent from the show's producer.  She was employed by SNL for 18 weeks and has stated that she did not feel that she was ready for the job when she accepted it. 
After leaving Saturday Night Live Silverman had a number of small roles in HBO's series Mr Show with Bob and David and an independent film starring alongside director Sam Seder called "Who's the Caboose?".  At this time she also had featured guest roles on popular TV shows Sienfeld and Star Trek Voyager.  On NBC's Late Night With Conan O'Brien in July 2001, during a joke about attempting to get out of jury duty Sarah used a racial slur to refer to people of Asian background, and stirred up much controversy.  Although Conan and NBC both issued statements of apology, Silverman did not apologize for what she said and claims that the joke was meant to "satirize the racist thought process". 
After making her standup comedy television debut in July 2007 on The Late Show with David Letterman Silverman's career began to blossom, recieving roles in movies like "There's Something About Mary," and releasing her own standup comedy movie, "Sarah Silverman: Jesus is Magic". "Sarah Silverman: Jesus is Magic" earned $1.3 million at US box offices and to promote it's release Sarah appeared in Slate Magazine, and on Comedy Central's roasts of Pamela Anderson and Hugh Hefner. 
The Sarah Silverman Program premiered on Comedy Central in February 2007 and garnered 1.81 million viewers on average every week. Sarah was nominated for a Primetime Emmy for the show but did not win.  Comedy Central cancelled the show after 3 seasons and 32 episodes. Later in 2007 Sarah hosted the MTV Movie Awards and appeared on the cover of as well as placed 29th on Maxim Magazine's "Hot 100" list. 
Through Hollywood connections including boyfriend Jimmy Kimmel, Sarah started to become a household name.  She appeared in many "viral videos" that recieved millions of views on the internet, had recurring roles in the hit TV show Monk, and also appeared several times on her boyfriend's show. Jimmy Kimmel Live!  Sarah and Jimmy Kimmel broke up temporarily in July 2008 and split for good in March 2009. 
At the 2014 Emmys Silverman won the award for "Best Writing for a Variety Show" for her HBO special titled "Sarah Silverman:We Are Miracles". 
Sarah currently lives in Los Angeles and refers to herself as as a cultural Jew, claiming: "I have no religion. But culturally I can't escape it; I'm very Jewish".  One of her older sisters, Susan, is a rabbi and lives in Jerusalem with her husband and five children. 
---
Sources:Biography.com, IMDB, Newhampshire.com