Sander "Sandy" Levin
(1931 - )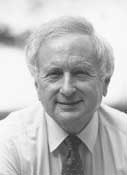 Sander "Sandy" Levin is a Jewish American politician who currently serves in the U.S. House of Representatives.
Levin was elected to the United States House of Representatives in 1982. The 9th Congressional District includes communities in Macomb and Oakland counties and spans from Lake St. Clair to Bloomfield Township.
He is the Ranking Member of the House Ways and Means Committee, which has jurisdiction over all tax, trade and economic growth policies and entitlement spending, including Social Security, Medicare, welfare and unemployment compensation. He has served on four of the six Ways and Means Subcommittee (Social Security, Health Care, Income Security and Family Support, Trade) except for the Oversight and Select Revenue Subcommittees.
Earlier in his career, Rep. Levin was elected to the Michigan State Senate in 1964 and served as the Michigan State Senate Minority Leader from 1969 – 1970. In 1970 and 1974, Mr. Levin was the Democratic candidate for Governor. After a four year assignment as Assistant Administrator in the United States Agency for International Development (USAID), he was elected to Congress in 1982.
Levin resides in Royal Oak, Michigan. He was born and raised in Detroit, Michigan. He earned his B.A. at the University of Chicago, his M.A. in international relations from Columbia University, and a law degree from Harvard University. He is married to Pamela Cole, a professor of Clinical Child Psychology and Human Development at Penn State University. He and his late beloved wife, Vicki, were married for over 50 years and raised their four children in Berkley, Michigan, a suburb north of Detroit in Oakland County. He has ten grandchildren and his brother Carl serves in the United States Senate. Mr. Levin is an avid sports fan, especially Red Wings hockey, plays squash with his brother, enjoys basketball, and likes classical music.
---
Sources: Congressman Sander Levin