Rudolph-Christoph von Gersdorff
(1905 - 1980)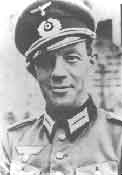 Career officer and graduate of the War Academy.
Joined the Abwehr and served as intelligence liaison to Army Group Center.
Became a close friend of leading Army Group Center conspirator Colonel Henning von Tresckow who recruited Gersdorff into the conspiracy to kill Hitler.
After Tresckow's elaborate March 13, 1943, plan fails to assassinate Hitler in Smolensk, Gersdorff declares himself ready to give his life for Germany's sake in a suicide assassination attempt.
On March 21, 1943, Hitler visited the Berlin Armory to inspect captured Russian war materiel. A gaggle of top Nazi figures, including Luftwaffe Chief Field Marshal Hermann Goering and Reichsfuhrer SS Heinrich Himmler anxiously awaited Hitler's arrival. Gersdorff was to give Hitler a tour of the armory.
Moments after Hitler entered the museum, Gersdorff set off two 5-minute delayed-fuse hand grenades in the pockets of his coat. His plan was to throw himself around Hitler in a death embrace that would blow up both men. But contrary to everyone's expectation, Hitler raced through the museum. Gersdorff was able to take leave of the delegation and defused both grenades in the stall of a public bathroom.
Gersdorff was soon transferred back to the eastern front where he managed to evade suspicion after July 20th. He survived the war to retire from the army as a brigadier general.
---
Sources: Joric Center