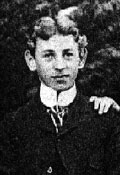 Reuben Garret L. Goldberg (Rube Goldberg) was born on July 4, 1883, in San Francisco, California. In 1904, he earned a degree in engineering from the University of California, Berkeley. Following college, Goldberg was hired by the city of San Francisco as an engineer for the Water and Sewers Department. However, after just a few months he left the city to join the staff at the San Francisco Chronicle as a sports cartoonist. The next year he took a job with the San Francisco Bulletin, where he remained until he moved to New York City in 1907.
He drew cartoons for several newspapers, including the New York Evening Journal and the New York Evening Mail. His work entered syndication in 1915, beginning his nationwide popularity. Goldberg produced several cartoon series, including Mike and Ike, Boob McNutt, Foolish Questions, Lala Palooza, and The Weekly Meeting of the Tuesday Women's Club. In 1937, he became the editorial cartoonist for the New York Sun.
While these series were quite popular, the one leading to his lasting fame involved a character named Professor Lucifer Gorgonzola Butts. In this series, Goldberg would draw labeled schematics of comical "inventions" which would later bear his name. In 1995, "Rube Goldberg's Inventions", depicting Professor Butts' Self-Operating Napkin, was on of 20 strips included in the Comic Strip Classics series of commemorative U.S. postage stamps.
In 1942, Goldberg was awarded the Pulitzer Prize for his political cartooning. He has also received the National Cartoonist Society Gold T-Square Award in 1955 and their Reuben Award for 1969.
Later in his career, Goldberg was employed by the New York Journal American, and he remained there until his retirement in 1964. During his retirement, he occupied himself by making bronze sculptures, which have been shown at the National Museum of American History in Washington, D.C.
Goldberg was a cofounder and president of the American National Cartoonists Society. He is considered on the most famous cartoonists in history.
Goldberg died on December 7, 1970. In 1980, Goldberg was posthumously awarded the National Cartoonist Society Gold Key Award.
---
Sources: "Rube Goldberg (1883 - 1970)." American Jewish Historical Society, American Jewish Desk Reference, (NY: Random House, 1999). pg. 505, Wikipedia