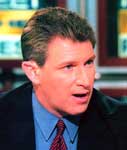 Robert Wexler is a Jewish American politician who is currently thre president of the S. Daniel Abraham Center for Middle East Peace. He was formerly a Democratic Congressman representing Florida in the U.S. House of Representatives.
Born in Queens, New York, Wexler moved to South Florida with his family at age 10. He earned his B.A. in Political Science from the University of Florida and his J.D. from George Washington University Law School.
Wexler served in the Florida State Senate from 1990 to 1996, representing portions of Broward and Palm Beach Counties.
First elected to the U.S. House of Representatives in 1996, Wexler was re-elected to his position five times, never facing serious opposition. While in Congress, Wexler was an active member of the International Relations Committee and was the only member of the House of Representatives present during the signing of the historic Wye River Peace Agreement.
In January 2010, Wexler resigned from the Congress to take the position as president of the Center for Middle East Peace, a Washington, DC-based think tank.
Wexler and his wife, Laurie, have three children, Rachel, Zachary, and Hannah.
---
Sources: U.S. House of Representatives; Wikipedia