Robert Lefkowitz
(1943 - )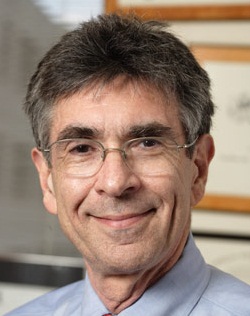 Robert Joseph Lefkowitz is an American Jewish physician and biochemist.

Born on April 15, 1943 in New York City, Lefkowitz graduated from the Bronx High School of Science before earning his BA in 1962 from Columbia University. He earned his M.D. from Columbia's College of Physicians and Surgeons four years later and did an internship and one year of general medical residency at the college. Subsequently, Lefkowitz served as a Clinical and Research Associate at the National Institutes of Health in Bethesda, Maryland from 1968-1970. For the following three years, he completed his medical residency and research and clinical training in cardiovascular disease at the Massachusetts General Hospital in Boston, Massachusetts.

In 1973, Lefkowitz was appointed Associate Professor of Medicine and Assistant Professor of Biochemistry at Duke University Medical Center in Durham, North Carolina. In 1977, he was promoted to Professor of Medicine and in 1982 to James B. Duke Professor of Medicine at Duke University. From 1973-76 he was an Established Investigator of the American Heart Association and since 1976 has been an Investigator for the Howard Hughes Medical Institute in Chevy Chase, Maryland.

Lefkowitz is most well-known for his characterizations of the sequence, structure, and function of the ß-adrenergic and related receptors as well as for discovering the two protein families that regulate the receptors, the G protein-coupled receptor (GPCR) kinases and ß-arrestins. In the 1980s, he and his colleagues cloned a gene that led to the discovery that all GPCRs have very similar molecular structures, which is important because it enables pharmaceutical researchers to understand how to most effectively target the largest receptor family in the human body. Today, up to as much as half of all prescription medicines – from anti-histamines to ulcer drugs to beta blockers that help relieve hypertension, angina, and coronary disease – are programmed to fit snugly into the receptors that Lefkowitz studies. Due to his seminal work in the fields of biology, biochemistry, pharmacology, toxicology, and clinical medicine, he is highly-regarded worldwide and one of the most highly cited researchers in those fields.

Among his many scientific awards are the 1992 Bristol-Myers Squibb Award for Distinguished Achievement in Cardiovascular Research; a 2007 Albany Medical Center Prize in Medicine and Biomedical Research; and the 2009 Research Achievement Award from the American Heart Association.

In 2012, Lefkowitz won the Nobel Prize in Chemistry with fellow American scientist Biran Kobilka. The pair of researchers were awarded the coveted prize for their "groundbreaking discoveries that reveal the inner workings of an important family…of receptors: G-protein-coupled receptors," the Nobel Prize website stated.
---
Sources: Wikipedia, Photo © The Nobel Prize website