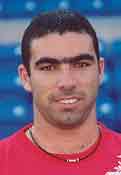 As a 15-year-old, Pini Balili helped Shimshon Tel Aviv qualify for the third division of soccer with his blistering runs. He then returned to Hapoel Tel Aviv, the team that first discovered him, but was not given a fair shot by the then-coach Eli Cohen. During the 2000-01 season, however, Balili excelled and proved himself a shining example of the new speedy and athletic forward prototype. That year, Balili scored nine league goals. In the 2001-02 season, Balili was energetic as usual but managed only five goals overall. Tel Aviv lost the championship to Maccabi Haifa.
A member of the Israeli national team since 2000 (Balili scored two goals in three matches that year), Balili has also made an impact for Israel to qualify for Euro 2004. On October 12, 2002, in Israel's first match of the round, Balili scored the first goal and hit the post twice as Israel secured an important 2-0 victory over Malta. He scored against Malta again on September 9, 2003, but Israel was unable to qualify for Europe 2004.
In 2002-03 Balili helped Hapoel to a third-place finish with an eight-goal campaign during the first part of the season. Hapoel enacted major wage cuts in the off-season, however, and Balili signed with Turkish club Istanbulspor. Balili's Turkish league debut was sensational; on August 10, 2003, he scored a beautiful chip as his team surprised city rivals Fenerbache 3-0. As of September 10, 2003, Balili had 2 league goals for the Turkish club.
---
Source: Jews in Sports